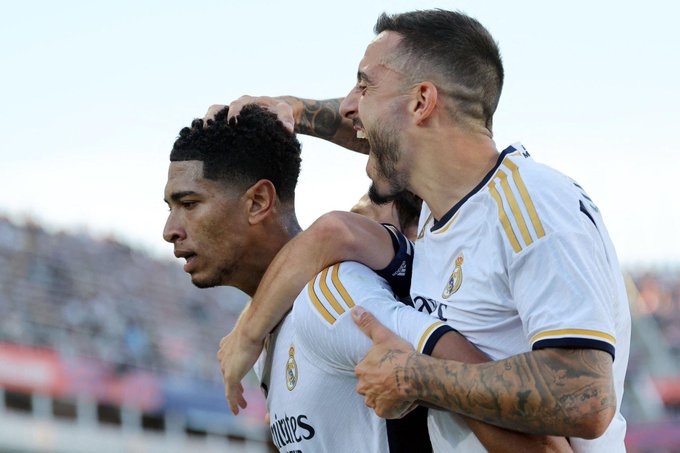 Real Madrid is rumored to operate under a distinctive payment structure compared to other football clubs.
While player salaries are commonly discussed on a weekly basis, it is widely known that payments are processed monthly in the industry.
However, reports suggest that Real Madrid, the 14-time European champions, follows a unique approach.
Throughout the years, Real Madrid has seen the likes of prominent players such as Cristiano Ronaldo, Ronaldo Nazario, David Beckham, Luis Figo, and Jude Bellingham.
Despite the substantial earnings these players would have accrued, former Republic of Ireland international Andy Townsend claims that Real Madrid's players receive their wages only twice a year, marking an unconventional practice in the football world.
Speaking on talkSPORT, the former Chelsea player said: "Do you know the Real Madrid boys, I know because Michael Owen's told me this before, when you sign for Real Madrid – you only get paid twice a year.
"It's a fair old lump that comes flying in but I'm pretty sure they get paid twice a year. "I remember saying that whenever you go to Real Madrid, you want to get off to a good start!
"You don't want to upset them because you want to make sure when it gets to December and that first lump goes into the old account, that you're doing well."
During the 2004/05 season, Owen spent a single season at Real Madrid, netting 16 goals across various competitions.
Many fans are now wondering if the wage structure in place during Owen's tenure at the Santiago Bernabeu still remains unchanged, considering the significant events that have unfolded since then.
Real Madrid's recent noteworthy signing was Jude Bellingham, secured for a staggering £88.5 million in the summer, with the player agreeing to a six-year contract.
Bellingham's reported weekly earnings of approximately £220,000 have been justified by his impressive performance, having scored 13 goals in just 14 games.