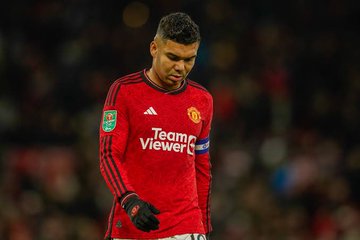 Casemiro seems uninterested in departing Manchester United during January, but reports suggest Saudi Arabian clubs may target him after the season concludes.
The Brazilian player excelled in his initial season at Old Trafford but has faced a dip in performance and fitness challenges lately.
Despite being sidelined with a hamstring issue until after Christmas, Casemiro remains a potential target for Saudi clubs.
While there is concrete interest from the region, it appears unlikely that he will leave United mid-season.
The veteran midfielder is reportedly more inclined to consider a move when the season concludes, as he is not keen on leaving at the turn of the year.
The upcoming January transfer window poses challenges for Saudi clubs, as they await the league table developments before considering high-profile signings.
Some teams face the necessity to sell players due to full foreign player quotas, delaying potential acquisitions.
A move for Casemiro is unlikely until the following summer, making him a more appealing option for Gulf state clubs.
United is reportedly open to selling him to alleviate his £350,000-per-week wages, aiming to recoup the £70 million paid to Real Madrid.
Casemiro, United's highest earner, signed until 2026, may possibly depart after two seasons if the club's financial demands are met at the end of the campaign.
Sir Jim Ratcliffe is reportedly eager to sell Casemiro if an opportunity arises next year, as per The Mirror.
The head of INEOS, on the brink of acquiring a 25% stake in United and assuming control of football operations, is rumored to have disapproved of the club's initial decision to spend £70 million on the midfielder.
Given Casemiro's age and underwhelming form at United this season, few clubs are reportedly willing to match his current wages. This situation makes a move to Saudi Arabia the most probable destination for him.
The outcome of a potential deal remains uncertain, and only time will reveal if it comes to fruition in the near future. Casemiro is expected to remain at Old Trafford for at least a few more months.