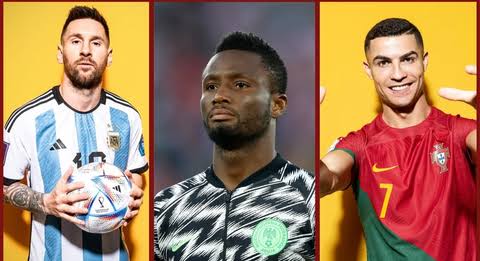 In choosing between Lionel Messi and Cristiano Ronaldo as the most formidable opponent he has faced, former Chelsea midfielder John Obi Mikel acclaimed Messi as a superstar "from another world."
Throughout the majority of his career, John Obi Mikel served as a central defensive midfielder for Chelsea from 2006 to 2017.
He amassed 372 appearances across various competitions, securing 11 major trophies for the Blues.
During his tenure at Stamford Bridge, the 36-year-old encountered numerous football superstars, facing off against the likes of Lionel Messi's Barcelona and Cristiano Ronaldo's Manchester United.
Obi Mikel recently featured on Rio Ferdinand's FIVE podcast, discussing his experiences playing against Messi. The former Nigeria international spoke highly of the Argentine ace, emphasizing that there was no basis for comparison with Cristiano Ronaldo.
"The way he [Messi] touches the ball, the way he passes," Obi Mikel said, "he's just for me… I know the comparison is there but because I've played against both and Messi was very very close to me.
"When you play against them, for me, I'm not going to say miles because of what Cristiano has done as well. But for me, I really don't see the comparison in some way because I just think Messi's from a different planet. I just think he's that good. He's that good."
When asked what his game plan against Lionel Messi was, Obi Mikel said:
"The game plan was just to kick him, get him off the ball, because we can't get the ball off him. You can't get close enough. You think he's there, he's gone."
Lionel Messi and Cristiano Ronaldo have solidified their positions as the two preeminent footballers of their generation.
The ongoing debate about who is the Greatest of All Time (GOAT) between them has persisted for more than a decade. Let's delve into their career statistics.
Messi, with 821 goals and 361 assists in 1045 appearances across all competitions for club and country, boasts an impressive record.
The eight-time Ballon d'Or winner maintains an average of 73 minutes per goal contribution and has amassed 44 trophies, the highest in football history.
On the other hand, Cristiano Ronaldo has accumulated 864 goals and 246 assists in 1194 appearances for club and country. The five-time Ballon d'Or recipient holds an average of 88 minutes per goal contribution and has clinched 35 trophies.