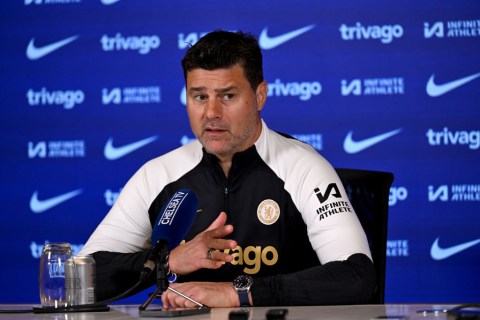 Chelsea's leadership may encounter challenges in the future as tensions escalate with manager Mauricio Pochettino, journalist Paul Brown disclosed to GIVEMESPORT.
Pochettino was brought in during the summer to rectify the aftermath left by Thomas Tuchel, Graham Potter, and Frank Lampard in the previous season, enjoying a positive start at Stamford Bridge.
However, the latest update suggests that discontent is brewing behind the scenes, with Pochettino expressing dissatisfaction with the club's direction. This dissatisfaction could potentially strain his relationship with the Chelsea board.
Chelsea had an impressive last week in the Premier League, securing controversial victories over Tottenham Hotspur and earning a point against Manchester City.
Despite their capability to perform in significant matches, their league position remains indicative of struggles, currently sitting in 10th place after 12 games.
Despite significant summer investments of £400 million, the two-time European champions have not seen a significant improvement in results.
The scatter-gun approach to recruitment, bringing in players like Moises Caicedo, Romeo Lavia, and Cole Palmer, is reportedly causing tensions behind the scenes.
Pochettino is said to disagree with the board's methodology, raising questions about whether they will tolerate a lack of immediate improvement in results this season.
Paul Brown said: "I think there have been some quite strange decisions made by Chelsea's board over the last few months and it's that situation is probably one to watch because I don't think they will have a lot of money to spend in January.
"They still have a couple of holes in their squad despite signing all these players and Pochettino is under pressure both to win now and also show that he can build something for the future by giving a lot of these younger players they signed big roles at the club.
"All of those things are not easy to achieve very quickly, so I do think there's some tension there and it will be interesting to see how much patience Chelsea have because Pochettino is a great manager, and I think they should be listening to his views on players in the transfer market."
The clash against Manchester City occurred during a challenging series of matches for the club from the capital, and the upcoming schedule after the international break promises to be even more demanding.
Their first assignment upon the resumption of domestic football is an away match against Newcastle United at St. James' Park.
Chelsea, having suffered a defeat in the same fixture last season, will be eager to capitalize on Newcastle's deepening injury woes and secure three points in the North East.