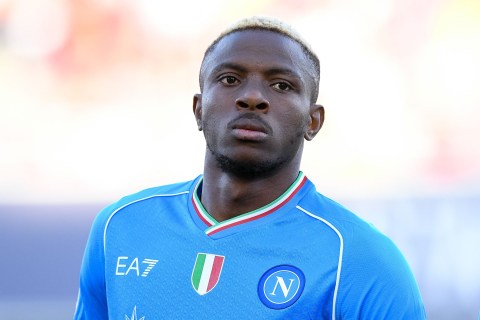 Details have emerged on Chelsea's approach to the January transfer window, with Mauricio Pochettino aiming to strengthen his attacking options.
Despite the summer signing of Nicolas Jackson from Villarreal, the Blues have been consistently linked with various strikers throughout the season.
Although the 22-year-old Jackson has experienced an improvement in form, questions linger about his ability to lead Chelsea to silverware.
Despite scoring seven goals in 14 appearances this season, the doubts persist. His contract at Stamford Bridge runs until 2031.
The latest report suggests that Chelsea will only pursue a new striker in January if the right opportunity arises.
Journalist Ben Jacobs indicates that Pochettino has confidence in both Jackson and Armando Broja, along with Christopher Nkunku, who is yet to make his competitive debut since joining in the summer.
While Chelsea has high expectations for the trio, Jacobs adds that if a new talisman is not secured in the winter, the club will look to acquire one in the summer. Pochettino's preference is not just for any striker; he aims to sign an 'elite' forward.
Currently, there are limited options for 'elite' strikers on the market, but Victor Osimhen stands out. The 24-year-old Napoli striker was heavily linked with a move away in the summer, with Chelsea expressing interest.
However, Napoli was determined to retain their star player, leading Pochettino to focus on signing Jackson.
Osimhen, valued at £69.7 million, has maintained his impressive form, attracting attention as one of the world's top strikers.
His future at Napoli is uncertain, exacerbated by a controversial video posted by the club that seemed to mock him.
Despite reports linking Osimhen with an exit, they have insisted that 'everyone is happy'. After Napoli's game against Udinese this season, Rudi Garcia said: "I have had a very good rapport with Victor since the moment I arrived.
"I am happy because he scored a goal and centre-forwards always want to score goals. In Bologna we were all frustrated at not winning and he was even more after missing a penalty, so that can happen. We cleared the air, it all went back to normal."