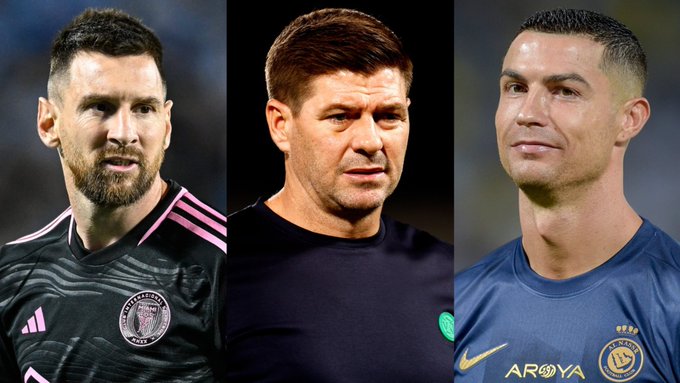 It seems that Steven Gerrard has reconsidered his stance in the ongoing debate about the greatest footballer between Cristiano Ronaldo and Lionel Messi. This comes just a year after he expressed his opinions in an interview with Gary Neville.
The 43-year-old, now managing the Saudi Pro League team Al Ettifaq, shared his views on the GOAT discussion last year on The Overlap YouTube channel.
When asked for his thoughts on the GOAT, Gerrard replied: "It's Lionel Messi for me. But I'm someone who would never have a derogatory word to say about Ronaldo, because he is phenomenal."
He added: "They're the two in my era that were just…wow. When you're a footballer and you've done it yourself, the numbers are just… I'm not sure that's going to happen again."
Following his participation in that discussion at the Aston Villa training ground, Gerrard's circumstances have undergone significant transformations.
He is now the world's fourth-highest-paid manager, having agreed to a staggering £15.2 million per year contract with Al Ettifaq.
Since relocating to the Middle East alongside Cristiano Ronaldo this summer, it appears that the former Liverpool midfielder has reevaluated his stance in the ongoing greatest of all time debate.
Speaking to the Saudi Pro League in a recent interview, Gerrard said: "The arrival of 'The GOAT' as we call him, Cristiano (Ronaldo), him arriving in January obviously (was) a huge signing.
"He still had a lot of football to offer. So, from afar, for six months, I was looking in at Cristiano Ronaldo's results, at the league, watching some games and watching some highlights.
"I think from that moment, the league around the world had become a very popular talking point for everyone. After Cristiano's arrival, even more big-name signings, talents and skill sets were joining the league.
"At the time it coincided with me being out of the game and looking for my next opportunity, so I was fascinated from afar looking in.
"When my agent brought a couple of opportunities in the gulf area at the time, I was fascinated to explore them."
Gerrard added: "The Ettifaq proposal and opportunity was the most exciting for me because I've signed up to a club where the board are very passionate.
"They understand where the club is at, they understand it's something that's going to need building, and it's going to take time.
"That's the reason why I was very interested to analyse this one, because in my job you need time. Especially when a club has finished seventh in the league and so many points behind the top four.
"That's not an easy fix; it's not something you fix in a week, a month, or six months. It's a project to build on the pitch, which is obviously the priority, but also a lot of things needed to change around it to give the first team the support it needs."