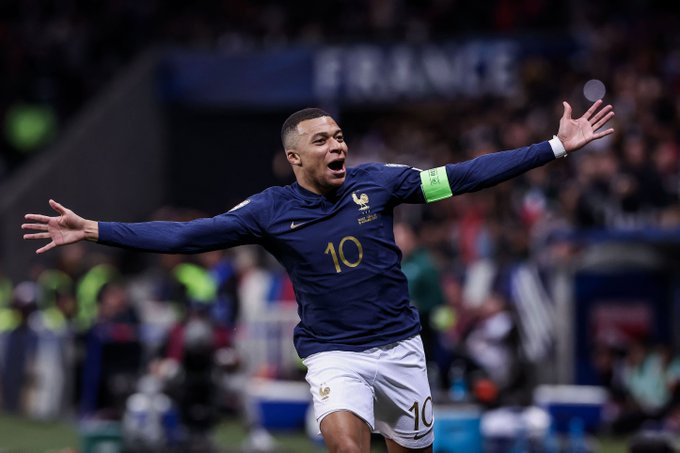 Kylian Mbappe delivered a cutting remark following his triumph over Lionel Messi and Cristiano Ronaldo in securing a milestone goal record during France's commanding 14-0 victory over Gibraltar.
Didier Deschamps' squad dominated against the 198th-ranked nation globally, exhibiting no mercy, especially after Gibraltar had a player dismissed just 18 minutes into the match.
By that juncture, the visitors were already trailing 3-0, initiated by an own goal from Ethan Santos, the same player later sent off. Marcus Thuram and Warren Zaire-Emery found the net, and Kylian Mbappe added to the scoreline with a penalty.
Before half-time, three more players contributed to the scoring spree, with Adrien Rabiot sealing an 8-0 lead on the 63rd minute.
Until Rabiot's goal, Gibraltar may have aspired to keep the score under 10, but the floodgates opened wide, leading to six more goals by full time for France.
The match featured a total of nine goalscorers, including Olivier Giroud, who came off the bench to score twice in the final minutes.
Mbappe, in a noteworthy individual performance, completed a hat-trick and provided three assists. Additionally, he achieved a historic milestone by netting his 300th career goal, surpassing Messi and Ronaldo in reaching this figure at a faster pace.
Post-match, despite Mbappe's focus on the game, he delivered a blunt comment during his interview.
Interviewer: "There were 9 goalscorers right?"

Kylian Mbappé: "10. 10 with the Gibraltar player." pic.twitter.com/EsGv49rwSe

— Get French Football News (@GFFN) November 19, 2023
When asked about the nine France goalscorers in the 14-0 victory, Mbappe interjected: "There were 10 – 10 with the Gibraltar player [own goal]."
At the age of 24, Mbappe has surpassed the goal tallies of both Messi (279) and Ronaldo (160) at the same stage of their careers.
However, he trails behind Pele in this comparison, as the Brazilian legend astonishingly scored 440 goals by the age of 24.