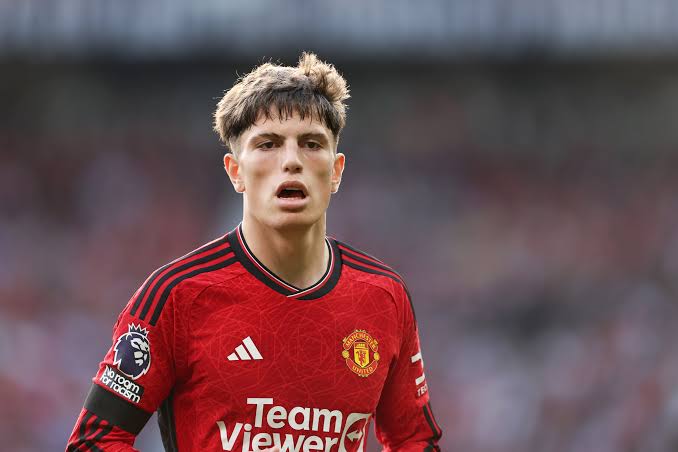 Alejandro Garnacho faced severe ridicule from one of his Manchester United colleagues on social media regarding his EA Sports FC 24 squad.
Ever since the highly-anticipated game was released in September, gamers worldwide have been eager to assemble their own Ultimate Team.
During the recent international break, Garnacho, the standout player for United, shared a snapshot of his team on social media.
Among the notable figures in the Argentine's lineup were legends such as Peter Schmeichel, Patrick Vieira, and Ronaldo Nazario. Garnacho even featured himself on the left side of the attack.
Upon discovering Garnacho's posted team on social media, his teammate Facundo Pellistri seized the opportunity to playfully taunt the Argentine.
The Uruguayan winger wrote: "And he still can't win any games."
To which Garnacho replied: "Still 3-0 in games against you. Stop spending money it won't make you good."
Pellistri then hit back with: "He is lying."
During the international break, Garncho dedicated his time to constructing his EAFC 24 Ultimate Team. Meanwhile, Pellistri garnered praise for delivering a formidable performance in Uruguay's 2-0 victory against Argentina.
Pellistri executed four successful dribbles in the match, surpassing all other players on the field.
After the game, the 21-year-old was heavily praised by news outlet El Observador, who stated: "He played a tremendous game because his role transcended the offensive work and became an important piece in the defensive structure because when Uruguay lost the ball he quickly put pressure on the ball again.
"He was involved in all the risky plays on Emiliano Martinez's goal."
Speaking after the match, Pellistri said: "The key was in following areas, in being united, compact, and when the ball was recovered, damaging in speed."
On Tuesday night, Uruguay is scheduled to face Bolivia before the players return to their individual clubs.
Following this, Manchester United is set to visit Goodison Park for a Premier League clash against Everton on Sunday afternoon.