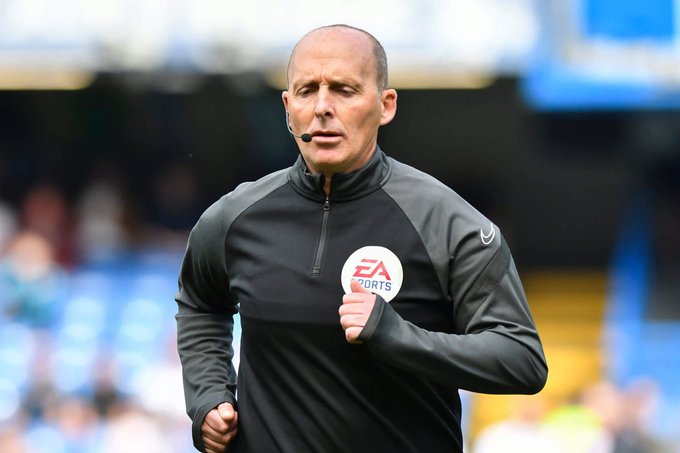 Mike Dean, a seasoned referee who ascended from non-league and Football League ranks to the Select Group, achieving the status of a Premier League referee in 2000, recently disclosed the most challenging player he encountered in his career.
Dean, who officiated in the Premier League for 22 years and was part of the FIFA international list from 2003 to 2013, officially retired from on-field refereeing last year.
Despite his retirement, he continued to contribute as a Video Assistant Referee (VAR) official for a single season.
In a conversation with The Athletic earlier this year, Dean shared insights into his experiences dealing with formidable figures in football.
He acknowledged that legendary Arsenal manager Arsene Wenger posed the most significant challenge among managers due to his consistent complaints when Arsenal faced defeat.
When it came to players, Dean identified former Liverpool, Manchester City, and Wales forward Craig Bellamy as the toughest competitor he had to handle during his illustrious tenure in the top flight of English football.
In an interview with SPORTbible, after being appointed as head of BAR (Bingo Assistant Referee) at Mecca Bingo, Dean said: "Craig Bellamy was tough. The likes of Robbie Savage and Joey Barton, I got well with them. He [Bellamy] is probably the toughest one I've refereed.
"I know why he's like that, because when you cross the white line you want to win for two hours, don't you? "A lot of players can be like that, but I just found him a little bit harder than the rest of them to be honest."
Following his retirement, Dean has assumed the position of the referee correspondent on Soccer Saturday. In this role, he remains actively involved in monitoring and reporting on refereeing-related developments.
Additionally, he has put forth two ideas that, in his opinion, could significantly impact the landscape of English football.
He explained: "They could use a sin bin, where if a player is pushing the limits for dissent, instead of getting a caution for dissent they can go to the sin bin for 10 minutes.
"That will be easy, and will certainly stop a lot of dissent in the game. That's what sometimes does spoil it for young people watching on TV as well.
"They'll have automated offsides in the Euros this year no doubt, and if that works – it probably will do, because it's worked in every other world and European competition – there's no reason why we can't have it in the Premier League next season.
"Again, it'll make it a little bit easier, make the process a bit quicker. Someone just tells the assistant referee in his ear that he is offside and obviously the goal will be given. It would have made the Tottenham vs Liverpool decision a lot easier, a lot quicker."
Dean also addressed the potential of involving more former professional players in refereeing but acknowledges the existence of certain challenges that need to be overcome.
"I've got no issues in doing it, but you can't fast track them, that's unfair on people who have been doing all the groundwork in the Northern Premier League and the National League to get to the Football League.
"You can't put them straight in – they've got to put in the groundwork, which probably takes two to three years.
"Would guys want to do it? I wouldn't have thought so. I think maybe you might get young pros around 23 to 25, who have been released by a club and probably not quite good enough to be a footballer, and the next best thing might be to referee.
"That might be a way of doing it. But I just can't see ex-pros at the age of 35, 36 wanting to go down the route of refereeing, to be perfectly honest."