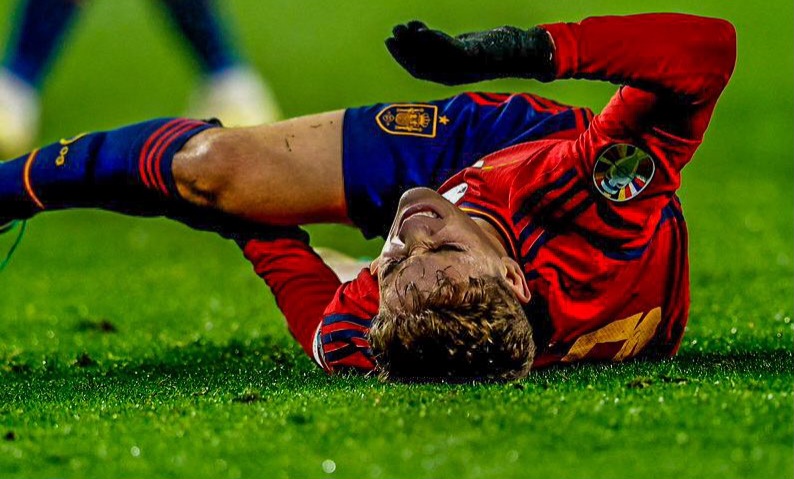 Barcelona, the renowned La Liga club, could potentially receive a substantial compensation sum following Gavi's injury, which may prematurely end his season during Spain's Euro 2024 qualifier against Georgia.
The 19-year-old midfielder, who had featured in all 27 games under Spain manager Luis de la Fuente since his appointment in December last year, is believed to have suffered an ACL tear at Valladolid's Jose Zorrilla stadium.
In an unfortunate incident with no opposing players nearby, Gavi seemed to land awkwardly on his knee. Subsequently, after just 26 minutes of play, he was substituted and visibly emotional upon leaving the field.
On Monday, Fabrizio Romano confirmed the initial indications pointed to damage to Gavi's anterior cruciate ligament, an injury that could potentially sideline him for the remainder of the season.
Barcelona expresses frustration, questioning why their player participated in the final game when Spain had already secured qualification from Group A.
Reports suggest Barcelona could be entitled to a substantial compensation fee under FIFA's protection program. According to Mundo Deportivo, the Catalan giants could expect a minimum of €3 million in compensation.
As per FIFA regulations, clubs receive compensation if a player sustains an injury while on national team duty, leading to a sidelining of more than 28 days.
Barcelona would commence receiving compensation from December 16, with a daily rate of €20,548 euros, up to a maximum of 365 days.
This implies that if Gavi were to be absent for six months, Barcelona could receive around €3,082,200. In the scenario of an eight-month absence, the compensation fee would rise to €4,315,080.
Following the match, Spain manager Luis de la Fuente sadly updated Gavi's situation, indicating his likely absence from the upcoming European Championship in Germany.
"He was broken, shattered, he didn't understand that this could happen to him," La Fuente said. "It's the hardest and most bitter moment I've ever experienced in soccer. He stepped badly and his knee is gone.
"Football is a risky activity. Uncontrollable. I am very sorry for the player. Really. I understand everyone's disgust, of Barcelona, of the player, of the Federation. We feel it in the soul."