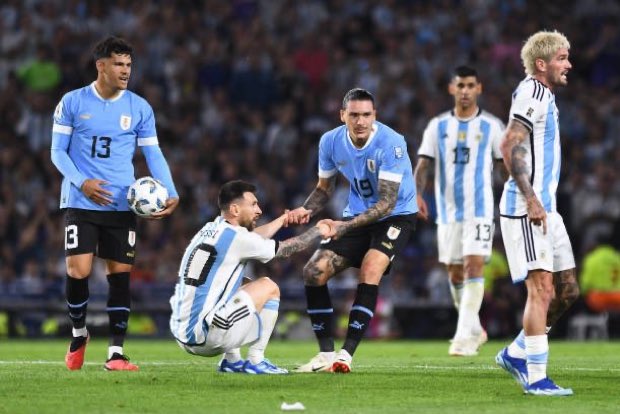 Liverpool fans are celebrating Lionel Messi's football acumen after he praised one of the club's standout players, and surprisingly, it's not Alexis Mac Allister.
During Argentina's decisive 2-0 loss to Uruguay last Friday, Liverpool star Mac Allister was on the pitch.
However, he wasn't the sole Liverpool player involved in the intense World Cup qualifier at La Bombonera.
Darwin Nunez took charge of the attack and sealed his team's second goal three minutes from the final whistle, showcasing his skill in finishing after a well-executed counter-attack.
Uruguay's strategic approach caused frustration for the reigning world champions, and Messi, acknowledging their tactics, specifically commended the 24-year-old Nunez.
The eight-time Ballon d'Or winner said: "Uruguay are good at rebounding and playing in space on counter attack. They have excellent players for that like Darwin [Nunez]."
Liverpool supporters on social media loved Messi's comments about Liverpool's Nunez.
One X user wrote: "Messi backs Nunez! There's no way he doesn't become a top level striker with all his talents." A second said: "Messi knows ball."
A third added: "No doubt in my mind Nunez will make it at Liverpool. Even Messi knows he's a great player." Another said: "Nunez gets the Messi seal of approval, and soon, the rest of the world's!"
Nunez joined the Merseyside club in the summer of 2022 for a record-breaking fee of £85 million.
In his inaugural season in England after moving from Benfica, he netted 15 goals across various competitions.
This season, Nunez has already scored seven goals in all competitions, with a notable two-goal performance against Newcastle United.
Messi's endorsement of Nunez is a clear indication of the forward's undeniable talent, despite taking some time to adjust to life at Liverpool.