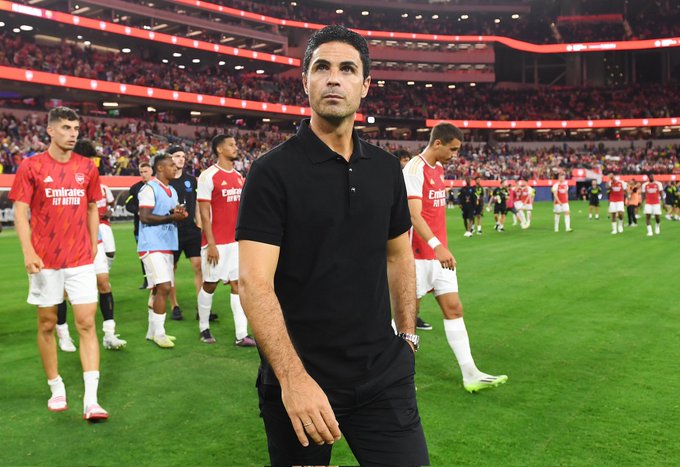 Arsenal's head coach, Mikel Arteta, weighed in on the ongoing debate about the greatest footballer of all time (GOAT) by revealing his dream five-a-side team.
For years, football enthusiasts have been engaged in discussions about whether Lionel Messi or Cristiano Ronaldo deserves the title of the greatest footballer of all time.
Following Messi's triumph in leading Argentina to World Cup glory in 2022, many now consider him the undisputed GOAT in football.
Nevertheless, staunch supporters of Ronaldo continue to uphold the status of the Portuguese legend.
He said: "The No.1 and I didn't play with him or manage, it would have to be Leo Messi.
"That's for sure because he's been in my opinion the most influential player ever in the history of football. We've never seen someone do what he has done on the pitch for that many years."
Arteta added: "Then with Ronaldo I would do the same thing and I would put the other [Brazilian] Ronaldo because since I was a kid I was in love with him.
"Then I would put Johan Cruyff there for sure because of his intelligence and what he did for the game and they are all attacking players.
"But the other one I have to do is Maradona because of my family and the Argentinian origin I have as well because of my wife. The way he transformed football and Barcelona during that period, he has to be there."
The Arsenal manager went on to explain his decision to not include any defenders or goalkeepers.
Arteta added: "No defenders! We don't have goalkeepers, it's five-a-side. No goalies.
"If it's six-a-side then I have to go for a friend, Pepe Reina. I've played with him since I was 16 years old in Barcelona and now, last week, he became the Spanish player with the most European caps in our history. He's 41 and still playing. An amazing career."