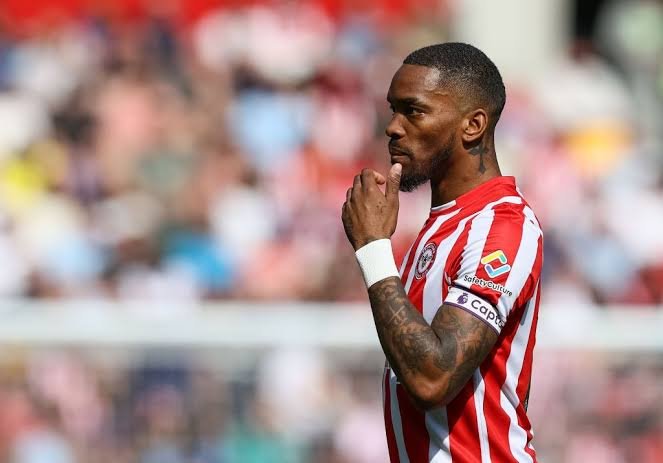 Reports suggest that in order to outpace Arsenal in the race for the signature of Ivan Toney, Chelsea may have to significantly revise their wage structure. The same financial challenge is anticipated in the pursuit of Victor Osimhen.
Mauricio Pochettino's team has initiated talks to secure Toney ahead of the upcoming January transfer window, facing stiff competition from Arsenal.
Brentford, where Toney plays, is reportedly demanding £80 million for the striker who notched up 20 goals in the previous Premier League season.
Victor Osimhen, another player on Chelsea's radar due to his impressive performances for Napoli, has expressed openness to a potential move to the Premier League next year.
According to Matt Law of The Telegraph, Osimhen is Pochettino's preferred choice, but Chelsea's existing wage structure poses a hindrance to their ability to secure the player.
'Here's where I am with Osimhen, I don't know this for pure fact but I've got a good source on it, I think Osimhen would be Pochettino's first choice,' Law said on the London Is Blue podcast.
'Actually, [Kylian] Mbappe would be Pochettino's first choice but that ain't going to happen. He loves Mbappe. I think if you asked Pochettino who he would have in his team out of Mbappe and Harry Kane he would go Mbappe. He absolutely loves Mbappe.
'But let's be real. Talking realistically, Osimhen is Pochettino's first choice.
'I don't see it [for] January. Just because… and I know Napoli talk a lot on transfers, they deny a lot of things and then do the opposite, I know, but I think that transfer in January is probably very difficult to do in terms of what you'd have to pay, both the club and him, and also their reluctance to do it.
'In the summer, as long as he doesn't go anywhere else, I could really see Osimhen in Chelsea. Because I think at the moment convincing Osimhen to join Chelsea even might be tricky, just because in his eyes he looks at the table, they are a mid-table football club at the moment, we know they're not a mid-table club, realistically they're not a mid-table team, but if he's looking at it in January they might be sat in mid-table.
'But the biggest problem Chelsea have with all this, and this is what's going to be fascinating, is the wage structure.
'They are not going to be able to sign a top striker within their wage structure. They are not even going to be able to sign Ivan Toney in their wage structure. Ivan Toney isn't moving to Chelsea on £100,000 a week, or £120,000 a week, or £90,000 and millions in bonuses if they win the Champions League and win the league. Ivan Toney has got one big last opportunity at a contract, he's going for £150,000 to £200,000 a week plus, and that's where he's going.
'Similarly, you have to imagine with Osimhen, if he comes to England he's chasing the big money. He turned down Saudi Arabia in the summer, now that was more a football decision, but they would have been offering him absolute fortunes, he's not joining Chelsea on £100,000, £120,000, £130,000 a week either.
'None of the A-list or even B-list strikers are coming for that money. I find this really interesting. Chelsea are going to have to shatter that wage structure that they've implemented elsewhere in the team to sign the type of striker that they and Pochettino will want, unless they're going to take a chance on someone, but there's no point in doing that, they've got that guy, they've got Jackson, that's the guy they took a chance on and it might still work. But there's no point signing another Jackson.
'If they get a striker, for me, it has to be an elite striker and they'll have to shatter their wage structure and manage that situation.
'I personally would be extremely surprised by Osimhen in January. I do think he's Pochettino's first choice, and I do think there's a chance for the end of the season if Chelsea can decide what they're going to do on their wages.'