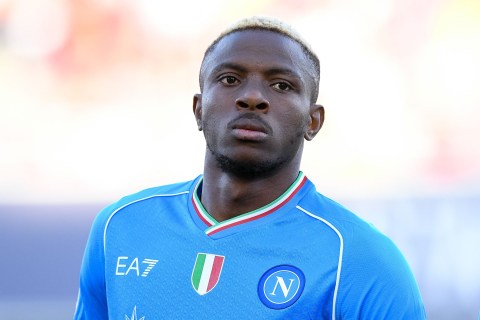 Victor Osimhen hasn't ruled out a move to the Premier League, following a plea from John Obi Mikel for the Napoli striker to consider joining Chelsea.
Despite interest from Chelsea and Manchester United, Osimhen chose to stay at Napoli after contributing significantly to their Serie A title victory.
With an impressive record of 65 goals in 111 Napoli appearances, the 24-year-old is now a sought-after striker in European football.
Former Chelsea midfielder Mikel is keen for Osimhen to become part of Mauricio Pochettino's team.
'We're crying out for him,' Mikel said on The Obi One Podcast.
'You look at our Chelsea team, we're not playing that great at the minute but then we lack goals, we lack a striker who can run into spaces, who can create.
'I was watching Darwin Nunez for Liverpool, he had about 11 shots and all the runs he made, he created those chances by himself because he was running in behind.
'That's something Victor will give us at Chelsea, a striker who is really willing to run behind, obviously those passes will come through and he will get goals.
'I think we're crying out for goals, if he comes to Chelsea I think it will suit him really well because we don't have anyone doing that right now so there's not going to be too much pressure on him coming into the club because obviously we need that, we're crying out for that.
'You know, my advice is for him to come to Chelsea.'
During his appearance on Mikel's podcast, Osimhen, though not directly questioned about a Chelsea move, hinted at his preference for staying in Europe.
He revealed that he had declined an offer from the Saudi Pro League side Al-Hilal during the summer, emphasizing his commitment to playing in European competitions.
When asked about his desire to continue playing in Europe, Osimhen affirmed, saying: 'Of course.'
'What was said was true, I had talks, in August that week was a huge one, a huge decision for me to take, but I actually put it in God's hands.
'But the more I said no to these people [in Saudi Arabia] the more they increased it and increased it, it was literally like, 'wow', seeing these things.
'I spoke with the people in charge and we spoke about it with my club and we saw what we could do, we decided, me and them and I told them, 'I like these people, I want to stay, I don't think I want to leave for now'. They understand where I'm coming from but they never gave up until their own transfer window [closed].
'I said to them even before we played the first game of the season, 'it's done', I really didn't want to go back thinking, of course it's a huge one, an amazing one that's going to change my life but of course I had to make the decision that's good for my career too.
'As much as we play football for money there's more that comes with it.'