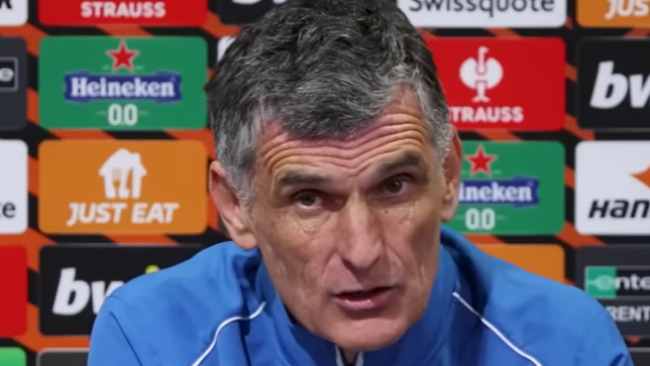 Jose Luis Mendilibar claimed he could sense Manchester United got 'scared' in the closing stags of last night's Europa League tie.
The Red Devils appeared to be on course for the semi finals after Marcel Sabitzer's first-half brace put them comfortably in control of the tie.




Injuries to Raphael Varane and Lisandro Martinez had a destabilising impact on the home team and Sevilla sensed indecision and pounced in ruthless manner.
Two own goals in the closing stages have now left United with a huge task to qualify and Mendilibar says his side deserved credit for the way in which they capitalised on United's vulnerability.
He said: 'They [United] came out very quickly. We were out of place, the defence left many spaces between the lines, difficult to cover, and until we have solved that problem, then we have been better.
'We are in two competitions, the other game is coming up in three days, we came from playing six days ago, the idea was for everyone to compete, for them to feel like they were part of the team, and because they have trained well.

'The team has improved with the changes [Sevilla's substitutions], they have gone down a bit with the 2-1, which they saw as easy.
'With the tie and Lisandro's [Martinez] injury, they [United] were scared and asking for more time.

'In the first few minutes, it seemed like the world was falling apart [for Sevilla]. Football doesn't end with that, it lasts a long time, Sevilla in that competition is always on top.
'When we made it 2-1, a great Manchester noticed that there was a great Sevilla.
'You have to try to win there [the second leg]. It is at 50%, but with the advantage of playing with our fans.'