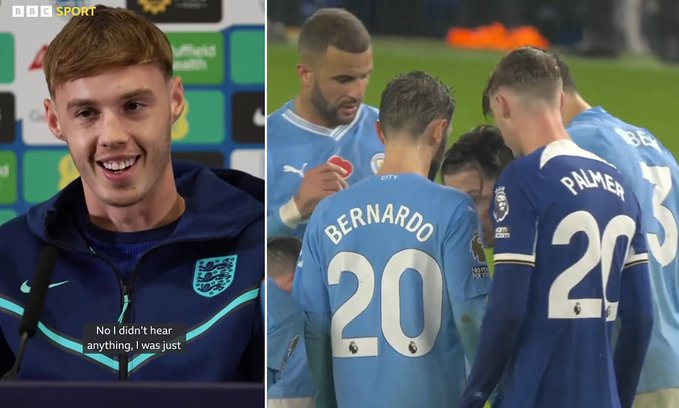 Cole Palmer maintains that Erling Haaland took the humorous aspect of his efforts to overhear Manchester City's team discussion in stride during the concluding moments of Sunday's Premier League encounter with Chelsea.
Facing his childhood club for the first time since his summer transfer, Palmer demonstrated remarkable composure by converting the injury-time penalty that secured a point for the Blues, capping off an impressive individual performance.
In the aftermath, as the ball was out of play, City's seasoned players gathered to strategize for one final offensive push, only to notice Palmer intruding on their discussion.
Upon realizing Palmer was eavesdropping, Haaland jokingly gave his former teammate a nudge, but the 21-year-old asserts that it was all in good fun.
Palmer said: 'I didn't hear anything, I was just having a laugh to be honest. I think Erling found it pretty funny, I don't think the others did.'
The talented midfielder has swiftly left his mark at Stamford Bridge, endearing himself to Chelsea fans with his relaxed, almost indifferent demeanor.
This was particularly evident in the way he nonchalantly shrugged his shoulders while celebrating his composed penalty.
'When I saw the ref give the penalty, I just thought 'it's my time',' Palmer said. 'I spoke to Raz (Raheem Sterling). He said 'what's happening?' and I was like 'I want to take it'.
'He was like 'fine' and then when I put the ball down I just tried to focus on a spot and put it there.'
Asked if he felt pressure, he said: 'Not really, to be honest. 'I felt I was waiting for a while and obviously I did think about my old club and stuff but after that not really.
'It was a crazy game. I did feel a bit nervous before and a bit weird to see everyone from the club I've been at for 15 years.
'But when the game started it felt normal and it was a good game.'