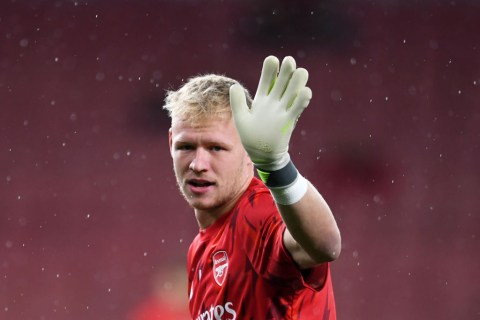 Mikel Arteta says he has been pleased with Aaron Ramsdale's reaction to being replaced by summer signing David Raya as the club's new No.1 goalkeeper.
The England star did little wrong during the opening four matches of the new campaign, but was left to lick his wounds on the substitutes' bench last week as he made way for David Raya.
The former Brentford goalkeeper didn't put a foot wrong in a 1-0 win at Goodison Park over Everton and kept another clean sheet in Wednesday's 4-0 victory over PSV Eindhoven that marked Arsenal's first Champions League match in six years.
Arteta insists he is yet to make a decision on who will keep goal in Sunday's derby against Spurs but maintains Ramsdale's attitude has been exemplary in light of a decision his manager took no enjoyment from making.
'I understand it, and it's very difficult with every player, and I suffer and care about every player who is not playing,' said Arteta at his pre-match press conference. 'But this is the competition and it is my job to make decisions in the best possible way for the team.
'He's been very supportive, he's been really good around the place and that's what I expect from every single player, because when you are on the field there is someone else who is not. So it goes both ways and so far he's been really really good.
'Comfortable? Maybe I look [it], but in your tummy when you have players sitting, or you have to announce the line-up, it's one of the hardest things, because players feel happy and valued when they play.
'When they don't it's very difficult. You want them to feel loved and trusted, and the way to do that is to play them, but everybody understands it's a team sport.
'It's always 11 players starting, but we have seen as well how important the finishers are, and how important everybody is going to be in the season, and not look back on the team who have played the first six or seven games of the season.
'It is hard, but with all the players it's the same. Aaron is an exceptional character and he's got this charisma and aura around him and we all know that and I fully understand that.'