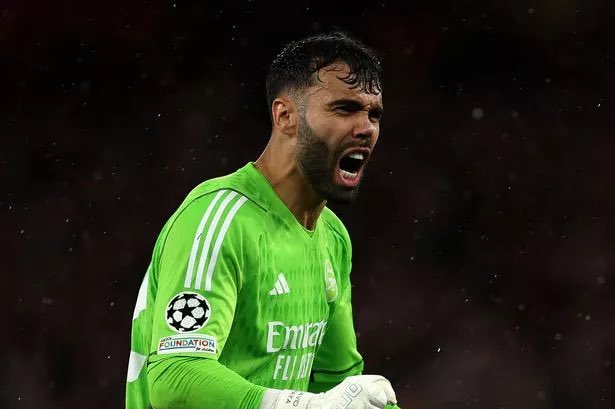 David Raya has disclosed that complications related to Financial Fair Play regulations prevented Arsenal from securing the goalkeeper on a permanent contract during the summer transfer window.
Despite facing competition from Tottenham, Manchester United, Chelsea, and Bayern Munich, the Gunners successfully secured Raya's services on loan from Brentford for a fee of £3 million in August.
There is an option for Arsenal to make the deal permanent for £27 million at the conclusion of the season.
Although the 28-year-old has displaced Aaron Ramsdale as Mikel Arteta's first-choice goalkeeper, he has faced criticism for some unconvincing performances since joining Arsenal.
Raya's agent, Jaume Munell, has stated that Arsenal's interest in the Spanish goalkeeper predates the club's decision to sign Ramsdale in a £30 million deal from Sheffield United in 2021.
Additionally, Munell mentioned that Tottenham, Bayern Munich, Chelsea, and Manchester United all made concrete approaches for Raya during the summer transfer window.
'Arsenal showed interest for the first time three years ago in 2021. They tried to buy him but Brentford didn't want to sell him at any price,' Munell told AFTV.
'After they bought Ramsdale that was an easier option but David has always been the priority.
'This summer, he had just one year left on his contract with Brentford and Arsenal was the club that showed the most concrete interest and have always been our priority.
'Tottenham also was interested and made an official bid but it was refused because was lower than the €40m [£34.9m] that Brentford wanted to sell him, also Bayern Munich was interested and had an amazing offer but with no buy option included and for this reason, we've not accepted it.
'Bayern Munich didn't understand our refusal because they thought that Raya would have been the backup keeper at Arsenal but as you can see it's not like this. Also Manchester United and Chelsea made an inquiry but nothing concrete.'
'The formula of the deal is a loan with the option to buy, Arsenal had some Financial Fair Play issues and this is the reason why they haven't bought him with permanent transfer,' Munell said.
'Arsenal is a team with a lot of quality and a lot of young players trained by a top coach Mikel Arteta, they have maximum ambition. Arsenal have a clear identity, and a clear style of play that really works, as you can see by the results.
'Last year they were close to winning the Premier League, I believe that this year they can win it and try to win the Champions League, it's tough but they have the quality and the ambition to try to do it.
'Inaki and Arteta were key for the deal, they have been determined for the choice that we made to play for Arsenal, the club have a project and a philosophy that fit completely for David.'