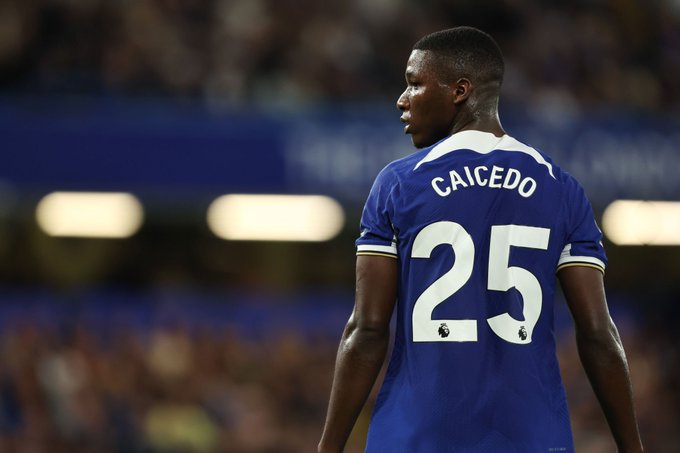 Moises Caicedo disclosed that a last-minute phone conversation convinced him to turn down Liverpool in favor of Chelsea.
In August, Liverpool's club-record bid of £111 million for Caicedo was turned down.
The Reds believed that the Ecuadorian midfielder was open to joining Anfield, even scheduling a medical for the then-Brighton player.
Nevertheless, Caicedo expressed his desire to join Chelsea, who had previously seen multiple offers for the midfielder rejected before being outbid by Liverpool.
Subsequently, the Blues submitted a new offer, reaching up to £115 million, ultimately concluding the protracted transfer saga.
Caicedo shared that a crucial phone call from Fernandez, who completed a £106.7 million move to Chelsea in January, played a pivotal role in persuading him to choose Stamford Bridge over Anfield.
Caicedo said when appearing on Sky Sports' Big Interview: "It was a nice chat. I mean, the fact that a world champion was phoning you, one of the best midfielders in the world.
"Receiving that call was very nice and he convinced me to come here.
"He said it was a great club, that there are many young players, there was a togetherness here. I have always enjoyed the bond in a team because I think that, if there is that bond, we can deal with any situation we may face: pressure, everything. So, that's what motivated me to come here.
"Now, I'm enjoying playing alongside him, in training as well, in rondos. We are always together. So, I'm very happy and I'm trying to do things better every day, as Enzo said, to be a good example for everyone at the club."
Seated next to Caicedo during the interview, Fernandez expressed his joy in successfully persuading his midfield companion to reject Liverpool in favor of Mauricio Pochettino's team.
"I called and told him that he had to accept and come because Chelsea is a great and ambitious club," he revealed.
"And I have to thank God for giving me the chance to play alongside him at Chelsea because we all know the great player he is, but he is also a fantastic person, so I'm thankful he chose Chelsea."