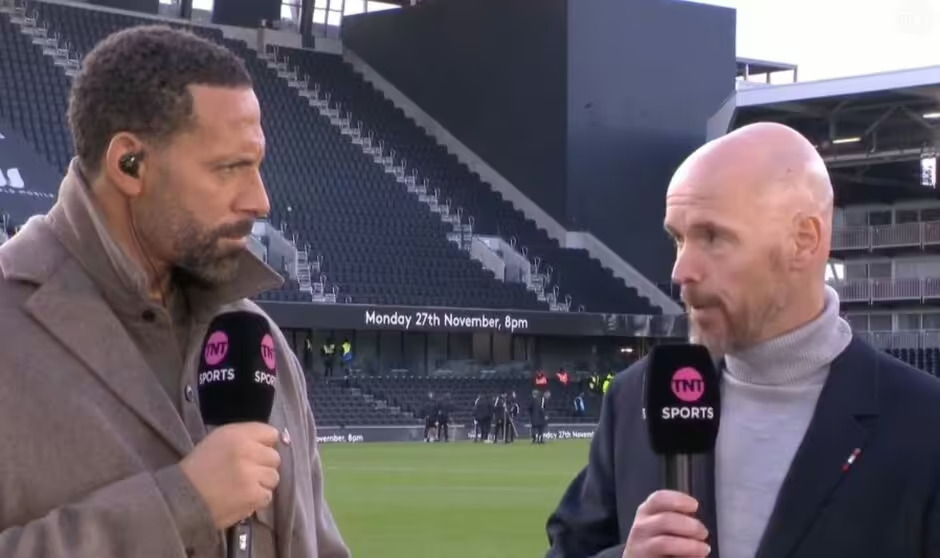 After Manchester United's 1-0 victory over Fulham on Saturday, manager Erik ten Hag swiftly dismissed Rio Ferdinand's inquiry regarding doubts about his team's playstyle.
Despite the win at Craven Cottage secured by Bruno Fernandes' late heroic effort, the Red Devils' performance once again fell short of being convincing.
The triumph brought relief to the vocal traveling supporters after a tumultuous week that saw consecutive 3-0 losses at Old Trafford to Manchester City and Newcastle United.
Ten Hag's squad, still missing several key players, failed to showcase their best form, and the outcome only glossed over the underlying issues present during the Dutchman's tenure.
Following the match, Ferdinand approached Ten Hag to express concerns about the perceived absence of a distinctive style of play at United, comparing it to the approaches of managers like Ange Postecoglou at Tottenham Hotspur, Unai Emery at Aston Villa, and Roberto De Zerbi at Brighton and Hove Albion.
However, the United boss swiftly dismissed Ferdinand's inquiry with a serious response, redirecting attention to his successful first season in England, showing he was unfazed by the comparison and confident in his methods.
"With all respect [to Rio Ferdinand], didn't you see my style of play last season?" Ten Hag rapidly responded.
Ferdinand reiterated his stance, making it clear that he was referring to the current season and not the Dutchman's initial campaign in the role.
Ten Hag hit back: "This season, no, not quite, but people should know why. It's because we have so many injuries.
"Every time we have to swap a player in and out, the routines they're used to won't be exactly there, and that is what you're seeing at this moment in our team.
"Obviously, we need to be winning games; that's not an excuse, but when there are players that aren't available, the roles won't be the same.
"We have good players, but they can't play the same position with different people in every lineup. Once we're healed, then we'll play better."