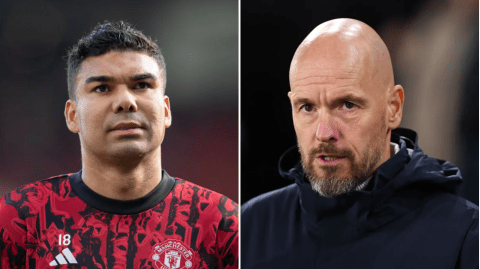 Several Manchester United players expressed dissatisfaction with Erik ten Hag's comments about Casemiro, alongside other controversial decisions recently.
The Dutch coach faces mounting pressure following consecutive home defeats against Manchester City and Newcastle, contributing to the team's eight losses this season across all competitions.
Rumors suggest that the club's leadership is considering potential replacements, despite the club denying these reports.
Nevertheless, there's noticeable unrest at Carrington, as Ten Hag's handling of Jadon Sancho and Harry Maguire has led some squad members to question his methods.
While Sancho and Maguire are clearly on the periphery of Ten Hag's plans, he has also caused friction with two regular players.
The Athletic reported that Ten Hag's comments on substituting Casemiro during the Brentford match were poorly received by the squad.
Casemiro was taken off at halftime in a match United eventually won 2-1, and Ten Hag was straightforward when discussing his tactical change after the game.
'I wanted more football,' said the manager when asked why he hauled off Casemiro early in the game. 'One who brings passing, distribution, link-up play. So I thought to bring [on] Christian Eriksen for Case.'
Casemiro indeed had a subpar first half against Brentford, despite being one of United's most experienced and respected players within the team.
However, Ten Hag's straightforward comments about the accomplished Champions League winner did not sit well with other squad members, signaling a growing discontent with his direct communication style.
While his intense approach was previously welcomed as a necessity for a more disciplined leadership at the club, it's now perceived as a potential issue during this challenging period, raising concerns that a softer touch might be required.
Another decision that caused surprise among players was picking Jonny Evans over Raphael Varane for the recent Manchester derby.
Although United usually exhibit a more robust defense with Varane, Ten Hag justified choosing the 35-year-old Evans due to 'tactical reasons.'
City scored three goals in their triumph at Old Trafford, leading to increased speculation that Ten Hag might be making several incorrect decisions in terms of both selections and tactics.