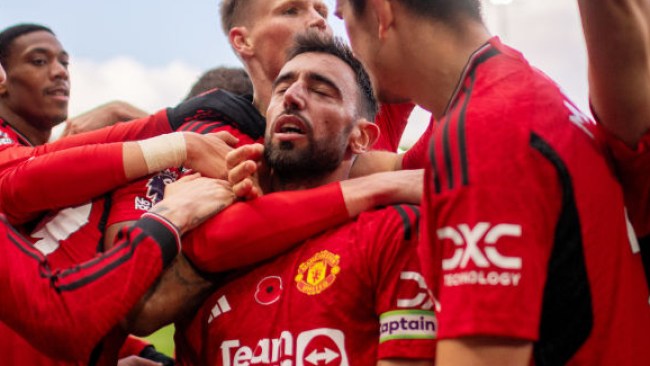 Erik ten Hag responded to critics of Bruno Fernandes following the Manchester United captain's clutch stoppage-time goal against Fulham on Saturday.
Facing immense pressure after consecutive 3-0 home losses to Manchester City and Newcastle, the Red Devils journeyed to Craven Cottage for the match.
Although they initially believed they took an early lead in west London with Scott McTominay's goal, it was disallowed for a marginal offside by VAR. United then endured sustained pressure from Fulham throughout the game.
The overall performance was subpar, allowing Fulham several opportunities to take the lead. Nonetheless, in the dying moments of the game, Fernandes conjured a moment of brilliance, securing a last-minute win in the 91st minute.
Following criticism from Roy Keane and Gary Neville after the previous weekend's loss to City, where Fernandes was questioned for his 'moaning' and suitability as captain, Ten Hag praised Fernandes' response.
He lauded the Portuguese midfielder for his crucial performance against Fulham, proving his leadership qualities and delivering when it mattered most.
Asked what he says to people who have questioned Fernandes' ability, Ten Hag told TNT Sports after the game: 'I don't understand it.
'So everyone has their mistakes and no-one is perfect. But he is doing a lot of things very good. He shows every time as a captain that he is an example.
'As you saw today, how he is working, how he is pressing and then in the end he scores the goal. So he's massively important for us.'
Asked how big a goal it was for his team, Ten Hag said: 'It's clear. We scored a goal in the beginning [offside goal], we scored in the end.
'But if you score in the end, away from home, it's always the best moment because for the opponent it's then almost no time to get back.'
Fernandes himself told Match of the Day: 'With the goal you could see the belief of everyone, fighting for that ball. Everyone was fighting and at the end I could get the shot for the goal and the three points.
'It's really important, we know the position we are in. We need to get results, it was massively important for us to get the three points today. We need to get points to start building something, we have to start somewhere because we've got big games coming.'