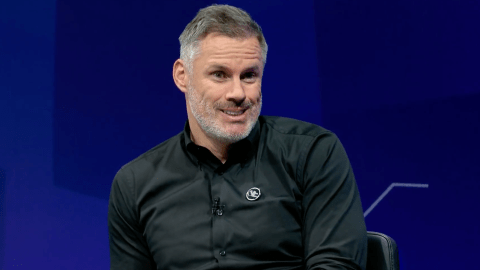 Jamie Carragher believes that Tottenham playmaker James Maddison is 'the most influential player in the Premier League'.
The Liverpool legend made the comment after Maddison scored Tottenham's goal of their 2-0 victory over Fulham on Monday night.
The result has moved the North Londoners back to the top of the table – two points clear of Manchester City and Arsenal – with the club still unbeaten in the league under Ange Postecoglou.
Maddison has been outstanding since moving to north London from Leicester over the summer for £40m, with three goals and five assists in his first nine league matches.
His form has put him in Gareth Southgate's England plans, and Carragher believes no one in the top-flight is having a greater impact on the pitch right now.
'For me, he's been probably the most influential player in the Premier League. I think he has been that influential,' the former defender said on Sky Sports Monday Night Football.
'The credit has to go to the manager. It's his philosophy, his way of playing, but he [Maddison] has been a major part of that.
'He has come in and taken the No. 10, Harry Kane's shirt, possibly the greatest player to have played for Tottenham. I think at one stage early on he had the captain's armband on.
'He is just that type of personality. Sometimes, taking a step up to a bigger club, that scrutiny is too much for players, they can't actually handle it. It's not their ability, it's their mentality.
'He can. He has embraced going to a bigger club, doing interviews with us, being in the spotlight. He absolutely loves it.'
Carragher shared his opinion with Maddison after the Fulham win, with the midfielder responding: 'That's the aim. It's big praise but I appreciate it.
'Coming to a club like Tottenham is a bigger club in stature than Leicester, and I absolutely loved my time there, but the scrutiny, the pressure, the responsibility goes up a notch when you come to one of these bigger clubs. I love that and thrive off that.
'60,000 fans here today and I just love these occasions on Monday Night Football. That's when I'm at my best.
'I felt really good out there today and I'm happy we got the win because we're doing really well as a team. We've got such a hard-working team and a great manager. I just want that to continue game on game.
'I'm really happy. All my goal contributions so far this season have been away from home, I keep seeing stats pop up about it.  It's nice to get off the mark here in a convincing performance, solid win, that puts us back to the top of the table.'