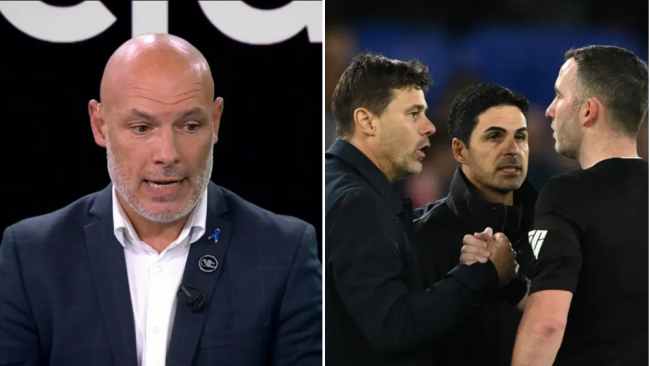 Howard Webb's previous comments suggest Arsenal could receive an apology from the PGMOL after they were denied a penalty in their 2-2 draw with Chelsea on Saturday evening.
Chelsea shot-stopper Robert Sanchez went unpunished in the second half of the London derby after he went to punch a free kick but missed the ball & ended up wiping out Gabriel Jesus.
Arsenal were surprisingly denied a penalty but went on to secure a point eventually through Leandro Trossard's equaliser in the 84th minute.
Earlier this campaign, Manchester United goalkeeper Andre Onana escaped a similar incident in his team's 1-0 win over Wolves at Old Trafford as he went to punch the ball clear but collided with Sasa Kalajdzic.
PGMOL chief Howard Webb apologised to Wolves for the VAR team's oversight and revealed his desire to 'acknowledge clear errors' this season.
'I think from the outset I want to say that should have led to an intervention by VAR,' Webb said of the Onana incident last month.
'We hear the VAR in this circumstance going through the checking phase once the penalty has not been awarded and he is describing what he has seen – Onana coming out and contact with the Wolves player, Kalajdzic.
'[The VAR] starts to go down the road, I believe, towards recommending a video review, but then he overthinks it a little bit. Sometimes the VARs can do that. They're trying to identify what the game would expect in terms of what is and isn't a clear and obvious error.
'And when he sees these two players come together, he knows that sometimes that can happen and it's not a foul. In this case quite interestingly neither Onana nor Kalajdzic plays the ball, so he sees in the end that as a coming together, a collision of two players, and decided not to intervene.
'But the difference in this one is that Onana jumps into the Wolves player. Kalajdzic is just jumping up and not into Onana. So it's not two players coming together, it's one going into the other.
'We didn't recommend a review. We should have done. We acknowledge that as an error, which, of course, was disappointing. We took the learning from that, obviously, to try and ensure going forward that type of error doesn't happen again.
'We think it's important we acknowledge clear errors. When it's clear like this one, we don't want people to benchmark against this situation. This was clearly wrong – if this happens the following week, we expect a penalty to be given. So, I think it's only right we acknowledge errors when they happen, acknowledge that wasn't correct, and we expect to see something different next time.'
Meanwhile, former Newcastle and England striker Alan Shearer believes Arsenal were denied a clear penalty against Chelsea.
'They should have had [a penalty]. There's no doubt about it,' Shearer said on BBC's Match of the Day. 'Sanchez has just come out, and he wipes him out, Jesus.
'What's key for me is that he catches him in the head. Look, he goes right through him here. It's a terrible challenge.
'How on earth can the VAR not think that's a penalty, and the referee? He is nowhere near the ball.'