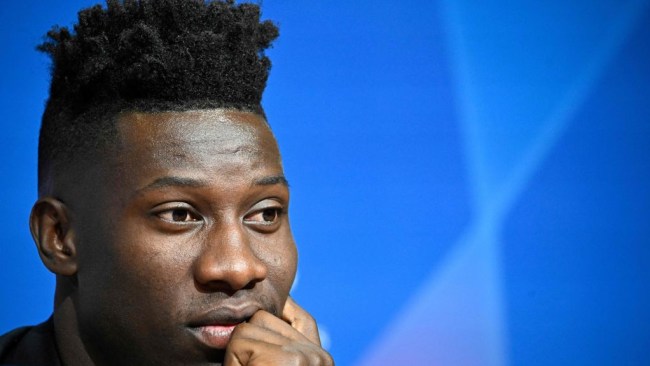 Manchester United goalkeeper Andre Onana claims he has a 'very good' relationship with teammate Harry Maguire.
The Cameroon international moved to Old Trafford from Inter Milan this summer as a long-term replacement for David de Gea.
He made an early impression in United's pre-season tour of the US, the shot-stopper ran out from his goal to berate Maguire during a 3-2 defeat to Dortmund in Las Vegas, unhappy with a sloppy pass from the defender.
Onana was recently criticised over the incident by former Liverpool player Jamie Carragher, who suggested the goalkeeper ranted at his teammate in order to endear himself to United supporters ahead of the new season.
Speaking ahead of Man United's group stage opening game against Bayern Munich, Onana was asked whether the incident has been overblown by the media.
He told reporters: 'No, Harry is a very good guy, I have a good relationship with him, I even spoke with him this morning before we took off for Munich.
'What happened there, I already explained straight after the game.
'I don't think we have to give importance to what happened because are big guys and what happens on the pitch stays on the pitch and we definitely have a good relationship.'
Onana returned to action with Cameroon in the September international break having retired from international duty last year after a disagreement with manager Rigobert Song.
Cameroon sealed their place in January's Africa Cup of Nations in the win over Burundi with Onana set to miss a number of games for United if he is selected in the squad for that tournament.
Onana was quizzed on his international future on Tuesday in Munich but said no decision has been made.
'If am called up, I don't know if I am going to be called up so we can't speak about things we don't know.
'Let's see what is going to happen in the next month but we are here to play against Munich, an important game for us so all the focus is on that game tomorrow.'