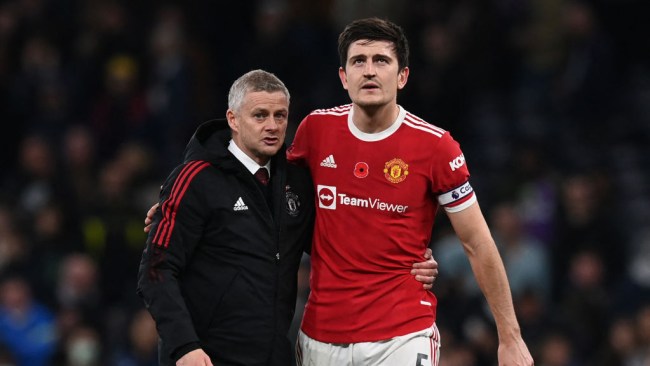 Ole Gunnar Solskjaer has revealed his disappointment at the Manchester United players who rejected the opportunity to captain the club during his reign.
The likes of David de Gea, Valencia, Harry Maguire and Ashley Young all wore the armband during various stages of the Norwegian's Old Trafford reign.
By the end of his tenure, several high-profile players were said to have openly questioned his decision to hand Maguire the captaincy on a permanent basis, particularly after bringing Cristiano Ronaldo back to the club.
Solskjaer, however, says he had a solid relationship with the majority of the players in his first team, but admitted several egos in the dressing room had an inflated opinion of their worth.
He told The Athletic: 'Some weren't as good as their own perception of themselves. I won't name names, but I was very disappointed when a couple turned down the chance to be captain.
'I was also disappointed when others said they wouldn't play or train because they wanted to force their way out.
'There was stuff in the media after I left about how I treated some players, which were complete lies, but I had a solid, honest relationship with most of them.'
Solskjaer also confessed that the decision to re-sign Ronaldo backfired despite having felt there was no option but to press the button on bringing him back because he was on the verge of signing for Manchester City.
He added: 'It was a decision that was very difficult to turn down and I felt we had to take it, but it turned out wrong.
'It felt so right when he signed and the fans felt that at that Newcastle game, when Old Trafford was rocking (after Ronaldo scored twice in a 4-1 win). He was still one of the best goalscorers in the world, he was looking strong.
'When I looked at the fixtures it was going to be a deciding period: Manchester City, Liverpool and Tottenham, and Leicester away. Then Chelsea and Arsenal, plus Champions League games. Things went against us. It started with Aston Villa at home (a 1-0 defeat) and a late penalty miss.
'When you have a group you need everyone to pull in the same direction. When things didn't go right, you could see certain players and egos came out. We beat Tottenham convincingly 3-0 away, but then we lost two games…'