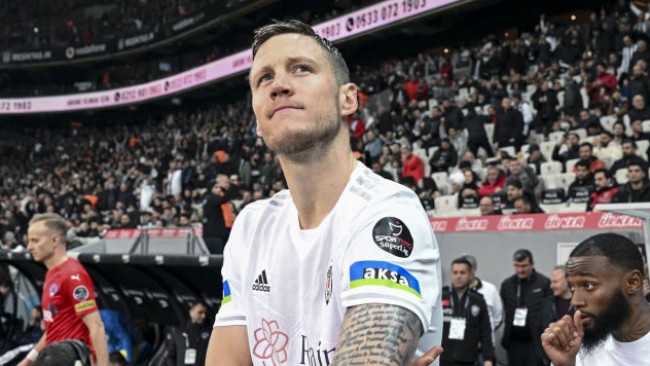 Wout Weghorst's agent met with Besiktas sporting director Ceyhun Kazanci on Monday to try and seal a January transfer to Manchester United, according to reports in Turkey.
The Dutch striker has emerged as a shock target for United, with Erik ten Hag eager to sign a new forward after the departure of Cristiano Ronaldo.




But, any deal is complicated by the fact that Weghorst is currently on loan in Istanbul from Burnley and Besiktas want to be compensated in order to terminate his loan move early.
Talks are ongoing and, as reported by Turkish outlet TRT Spor, Weghorst's agent, Simon Cziommer actually met with Besiktas on Monday.
The agent was seen arriving at the club's Nevzat Demir training facility in the morning and stayed for up to an hour.
According to TRT Spor, Cziommer communicated Weghorst's desire to leave Besiktas this month, with the 30-year-old desperate to make the move to the theatre of dreams.




But Besiktas sporting director Kazanci made it clear that the player would only be allowed to leave if the club can secure a replacement while they also want a fee for terminating his loan this early.
Meanwhile, Al-Nassr's Vincent Aboubakar is the man Besiktas want to sign, with the Cameroon international reported to be available as a result of Ronaldo's arrival at the Saudi Arabian club.

Kazanci has publicly stated that Besiktas expect to be compensated for terminating Weghorst's loan early, saying: 'If Manchester United or any other team wants Wegnorst, they will meet with Burnley anyway. Burnley will then contact us and discuss the terms of separation.
'If we accept, the contract will be terminated. Otherwise, it will go on until the end of the season. He can't just go.
'There will have to be an incentive for us to approve the separation. I'll give an example: if Burnley told us, "We made a deal with this team for Weghorst, we'll give you half of the transfer fee" – this may be a different condition. Then we'll sit down and talk.'




He added: 'I don't understand why Weghorst said goodbye to the fans, why he made such a move. He is our football player right now. Our contract expires at the end of the season.'