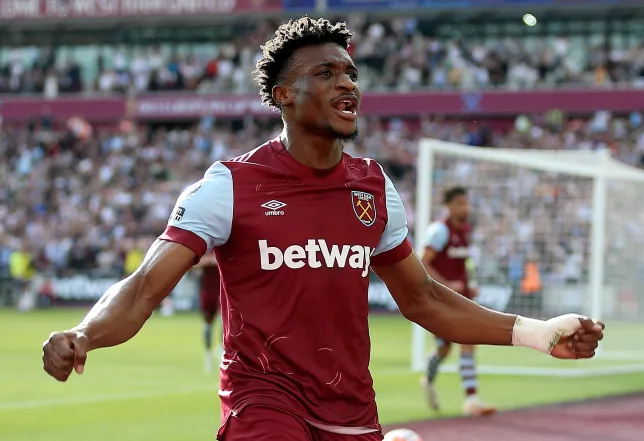 Mohammed Kudus' agent has revealed Chelsea failed with a 'ridiculous' offer to sign the player ahead of West Ham United this summer.
Kudus was allowed to leave Ajax in the summer window and the 23-year-old ended up joining West Ham in a deal worth €41.5m (£35.6m), plus another €3m (£2.5m) in add-ons.
The Ghana international's agent, Jennifer Mendelewitsch, has revealed Kudus was initially offered to Paris Saint-Germain before the French team chose to sign Manuel Ugarte, another Chelsea midfield target, from Sporting CP.
Chelsea had also expressed an interest in signing Kudus but Mendelewitsch claim the Premier League club did not follow up their initial offer, which was around €15m to €20m (£17.4m to £23.2m).
Mendelewitsch also revealed that Kudus held discussions with Chelsea boss Mauricio Pochettino and had even agreed a contract but feels they were always prioritising their £115m deal to sign Moises Caicedo from Brighton.
'He [Kudus] wanted to leave, there weren't 50,000 clubs who needed a midfielder and could afford him,' Mendelewitsch told RMC Sport.
'Obviously, we offered him his profile at PSG. Now, it's the club's choice not to not move forward. All clubs have the right to decide that they go to another profile or that it is not their priority.
'It's a shame because I think Mohammed Kudus would have been a suitable profile.
'We reached an agreement with Chelsea, we agreed contractually with Chelsea but the deal did not happen. He spoke with the coach [Pochettino] but in the end it didn't happen. It didn't happen because Chelsea made a ridiculous offer to Ajax.
'There was no counter-offer that followed. Actually, Chelsea did this to a lot of players this summer with very low offers to clubs knowing they wouldn't be accepted.
'The truth is that they were completely taken by the transfer of Caicedo which used all their energy.
'Then at a contractual level, it was a big contract but there is the other side of the coin which is these are such long contracts because of Financial Fair Play.
'But that's not the choice the player made. I think that in any case, from a sporting point of view, it would've been complicated for him. The circumstances weren't all right but when a club like Chelsea comes it's hard to refuse.'