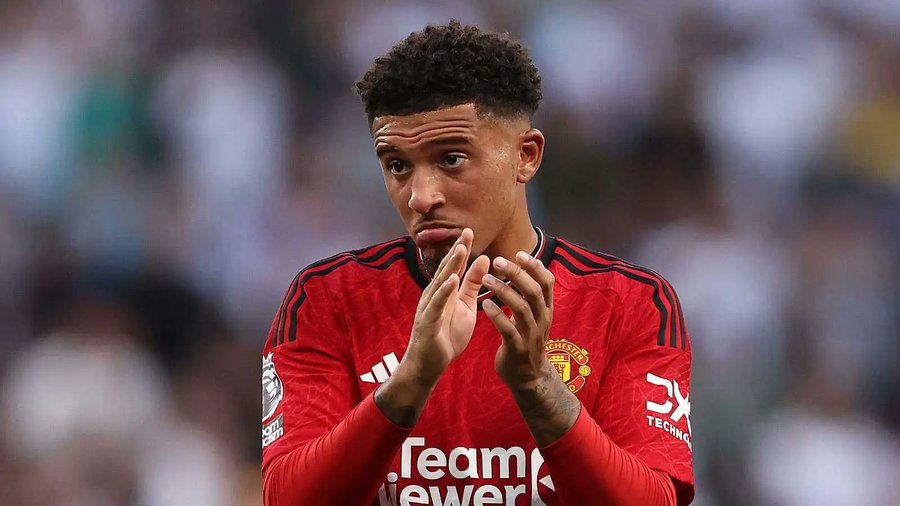 Jadon Sancho remains exiled at Manchester United, eight weeks after his public outburst with Manchester United boss Erik ten Hag.
New details emerging about Sancho and Ten Hag's row offer insight into the developments on the training pitch that led to the winger's exclusion against Arsenal.
The 23-year-old has been frozen out of the United first team since refusing to apologise for accusing Ten Hag of lying about his decision at the Emirates at the start of September.
Ten Hag claimed he left him out of the squad because of poor training levels, which Sancho denied, saying he had been made a scapegoat for United's early-season struggles.
According to The Times, other club staff agree Sancho had not been showing 100 per cent at Carrington during training.
Ten Hag is believed to have considered expressing his true feelings the correct move, believing telling regular white lies to protect players is outdated.
The report claims in the build-up to the trip to Arsenal, trio Dan Gore, Hannibal Mejbri and Pellistri impressed with their training levels.
Ten Hag was obliged to select all three in his squad, given it would be unfair to leave them out after making such a huge impression.
Sancho, who denies his poor efforts in training, emerged as the obvious candidate to make way. It was a huge statement of Ten Hag's disgruntlement in such a big match.
After Sancho refused to apologise for his social media statement during the September international break, he was banished to Carrington's academy centre.
And with there still being no sign of an apology, Man United are gearing up to sell their No 25 in the January transfer window. Dortmund are said to be interested in a surprise return.
The report adds Dortmund have held internal talks about Sancho's potential return to the Westfalenstadion next year.
The Bundesliga side are weighing up a pursuit to offer Sancho an escape route on a permanent basis or an initial loan.
Edin Terzic has reportedly kept in contact with Sancho, who left Borussia Dortmund for Old Trafford in a £73m deal in 2021.