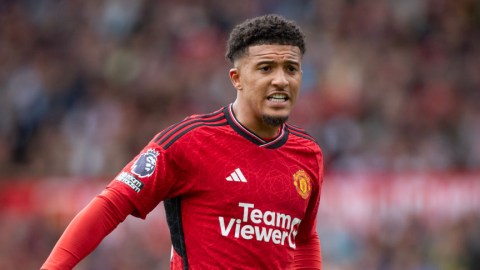 Manchester United's players have been urging Jadon Sancho to apologise to Erik ten Hag in an attempt to save his career at Old Trafford.
Senior United figures are preparing to sell Sancho in the January transfer window after they accepted that there will be no resolution to his feud with Ten Hag should the player continue to hold his stance.
Sancho has been exiled by Ten Hag ever since he was left out of the team for the 3-1 defeat at Arsenal, with the Dutchman claiming his omission came because he was not performing well in training.
Ten Hag said: "Jadon, on his performances in training we did not select him. You have to reach a level every day at Manchester United and we can make choices in the front line. So for this game he was not selected."
Sancho didn't take kindly to that level of public statement, and he issued a response on social media.
Sancho wrote: "Please don't believe everything you read! I will not allow people saying things that [are] completely untrue. I have conducted myself in training very well this week.
"I believe there are other reasons for this matter that I won't go into, I have been a scapegoat for a long time which isn't fair!
"All I want to do is play football with a smile on my face and contribute to my team. I respect all decisions that are made by the coaching staff, I play with fantastic players and [I'm] grateful to do so which I know every week is a challenge. I will continue to fight for this badge no matter what!"
Sancho later deleted the statement from his Instagram and X accounts, before deactivating them both. Ten Hag then made him train alone and even eat away from the first-team.
According to The Guardian, senior members of United's squad are believed to be trying to convince Sancho to apologise to his manager, with other figures around the club stating the issue can only be resolved if he says sorry for calling Ten Hag a liar in such a public fashion.
Sancho has struggled to follow up on the promise he showed at Dortmund since joining United in a £73m deal in the summer of 2021, when he was also becoming a regular in the England national team.
Manchester United are now accepting that, as it stands, the only way to resolve the situation will be to sell or loan the winger.