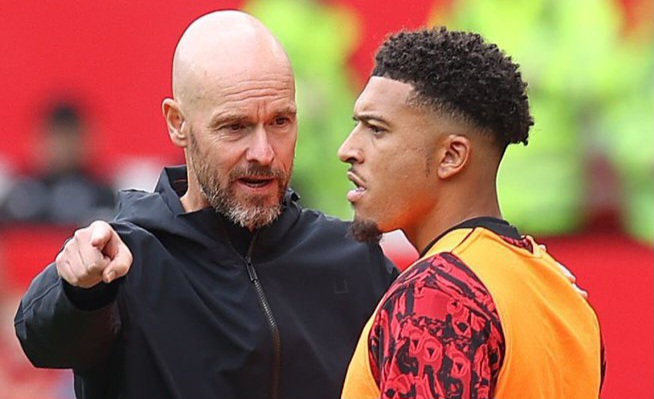 Jadon Sancho's Manchester United team-mates have now urged the winger to say sorry and end his feud with manager Erik ten Hag.
Sancho's United colleagues, including England trio Rashford, Harry Maguire and Luke Shaw, have all pleaded with him to swallow his pride and apologise to Ten Hag.
They have stepped in and told Sancho there will only be one winner in his ongoing issue with Ten Hag and have advised him to back down so he can start playing again.
Sancho has been training alone with United fitness staff since accusing Ten Hag of lying over the reason for his omission from the team to face Arsenal this month.
After Ten Hag said Sancho had been left out due to poor training performances, the player took to social media to contradict his manager in a challenge to his authority.
Sancho's United team-mates have got involved, with a source close to the players saying: "Jadon's team-mates have been telling him to back down and say sorry to the boss. They want him to apologise. They sympathise with him and the way he feels, but recognise a line was crossed with what he posted."
Ten Hag responded to the social media post by exiling him from training and it has been revealed Sancho has been barred from all first-team facilities – including the team dining room.
in addition to having to train with United's youth players, Sancho has been banished from using all first-team facilities at the club's training base.
That includes the dining facilities used by the first-team, with Sancho forced to eat with academy players after his spectacular fall-out with Ten Hag.
Sancho is said to be unhappy at his predicament, but has refused to apologise to Ten Hag, despite having deleted the social media post.
United sources have conceded the situation between Sancho and Ten Hag has reached an "impasse", with no way back for the former until he apologises to his boss.
It is believed Sancho has also been late for training on a number of occasions, with the player's inflammatory social media post said to have been the last straw for Ten Hag.