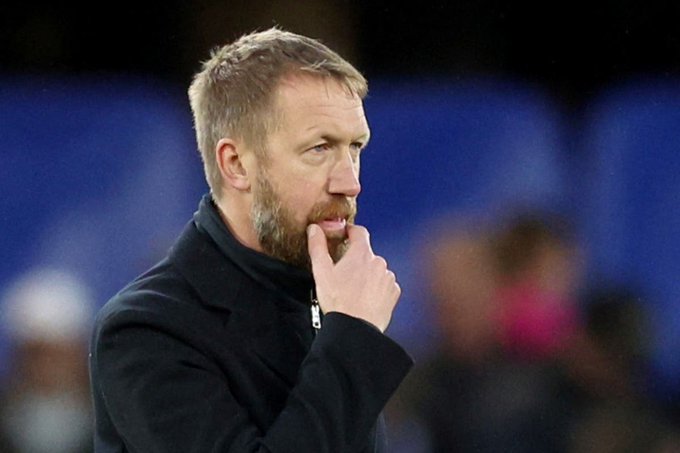 Chelsea's board is 'split' over the future of Graham Potter ahead of an important week for the club's manager.
While Todd Boehly is believed to remain convinced a change of management would further destabilise his new squad, the former Brighton coach no longer retains the full support of the club hierarchy, according to the Daily Mail.




The London side embarked on a January spending spree which only served to intensify the scrutiny on Potter who has overseen a poor run of form which sees Chelsea languishing in mid-table obscurity.
Last Sunday's defeat against Tottenham was the final straw for a large section of the club's fans and it appears unlikely that Potter would be able to ride out defeats in either of the next two matches against Leeds United or Dortmund.




Just this week reports emerged that Potter's bloated squad is beginning to question the manager's tactics and selection, but the man himself says he is confident he can steady the ship and has the full backing of those in key positions at Stamford Bridge.
Speaking at his pre-match press conference, Potter said: 'That's the frustrating bit for us, because we're seeing a lot of positives day to day.
'But they haven't been able to transfer themselves onto the pitch in terms of results. Performances haven't been as bad as results I would say, but we know the business we're in and the results we haven't liked.
'But in terms of daily training, how the spirit is in the players, how the group is coming together, the players are getting stronger, that's all positive. But it's hard to talk positives because results aren't good.




'The spirit in the team is as good as it can be when you're in a period of results that we're in. They've taken responsibility, they understand where we're at. We all admit we can do better.
'The players are honest enough to know that they can do better as well. We're all fighting but we need to show it on the pitch. It has to manifest in three points.'




'It's understandable, fans care,' he added. 'It's an emotion. However that comes out is understandable. We're hurting as well, but we also know that they are. It's understandable. We thank them for their support, because it's been there completely.
'When you lose at home 1-0 to the bottom team, you expect a negative response. They've been fair with us, we haven't been good enough to give them enough to be excited about with the team.
'Every team in the world has moments where they find it difficult, sometimes you have a moment where everything goes well.

'Our job is to fight through it. There's no other way. Keep working, sticking together, keep fighting through it and believing we can turn it around, and believing that a win is around the corner.'