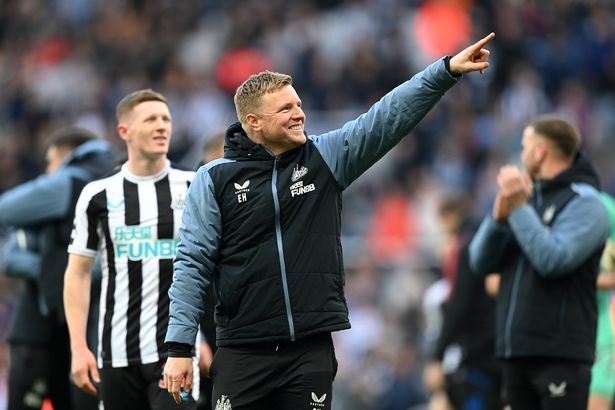 Eddie Howe hit back at Erik ten Hag's 'nonsense' time-wasting claims after Newcastle leapfrogged Manchester United into third place in the Premier League.
Ten Hag took a dig at Newcastle's game-management tactics before the Carabao Cup final labelling them "annoying." And that jibe lay behind a motivated Newcastle display, as Joe Willock and Wilson claimed a deserved win.
Newcastle's Twitter account got in on the needling, which included touchline exchanges between both sets of staff including Howe and Ten Hag. NUFC tweeted: "No time-wasting required."
And Howe responded: "I don't get where this time-wasting nonsense has come from. We want the ball in play, and back in quickly. I always stand up for my team and what I believe is right."
Dan Burn said Newcastle "owed them one" because they'd "always disliked" the Red Devils. He said: "That's really special. For a long time we've always disliked Man Utd as Newcastle fans. We owed them one. It was good to get a win today.
"Desperate [to beat them]. Over the seasons we've always wanted to beat Man Utd. Great performance from the lads. Delighted to get the win and a clean sheet."
Howe added: "We deserved the win and it was a really good performance. We prepared well. We had to be patient after creating chances we didn't take. We showed real belief. Most aspects of the team were strong. The first goal was a great goal. The physical outputs were huge."
Ten Hag, on the other hand, slammed his players. "I think it was deserving for Newcastle," the United head coach admitted to BBC Sport.
"They were more determined and had more passion and desire to score a goal. Also, to defend their box, which they did very well. We had the spaces and the opportunities but we did not use them.
"David [de Gea] made one great save. They had many shots from the edge and we put in blocks there. But we have to stop them before they come in to the final third. We didn't do that well. The blocks were good but better is to stop it at source."