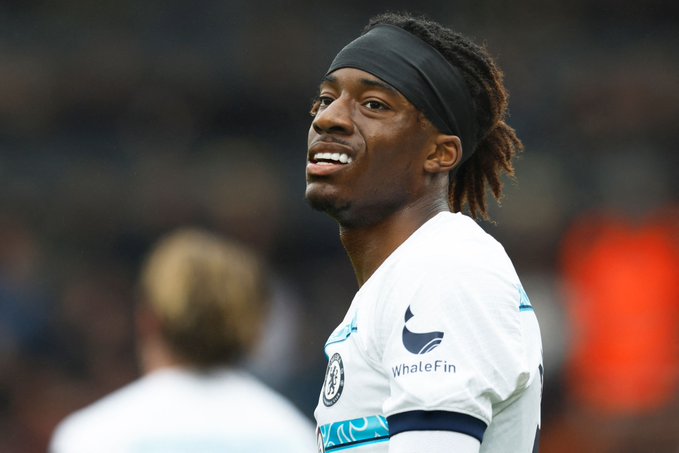 Ian Wright claims Chelsea have 'a real prospect' in Noni Madueke but has told the player to improve his end product.
Madueke, who was signed in a £29m deal from PSV in the January window, was singled out for praise by Frank Lampard for his display in Arsenal defeat on Tuesday and was rewarded with another start against Bournemouth on Saturday.

The 21-year-old winger impressed once again as Chelsea ended their six-game run of defeats by securing a 3-1 victory over Bournemouth.
And Wright is confident Madueke can develop into a major player for Chelsea if he works on perfecting his final ball.




'I think today he did [make the difference],' Wright said on BBC's Match of the Day.
'It's his fourth league start, Frank started him at Arsenal and said the reason why he put him in was because how hard he's been working in training to try to get that consistency to try to get himself in the team, and he's done it.
'He was very, very good today, gave Vina a lot of problems.
'This was the problem with him – the final ball. He holds it and holds it, in the end this is what he's going to have to learn quickly to make better decisions in that instance.

'He's got this kind of ability [to go past people], you're thinking as time goes by he will feed it [in the box], he'll start to get that in his game, and once he starts getting that in his game then you can see Chelsea have got a real prospect on their hands because he looked very good today.'
Meanwhile, Lampard agreed with Wright's post-match verdict and said they are working on Madueke's final pass.
'Noni was very sharp, considering he was not so well actually on Wednesday and Thursday, trained yesterday [Friday],' Lampard said after Chelsea's win over Bournemouth.
'But I thought he was really good against Arsenal in a tough game and he got his goal. 'Today again he's got a fantastic one-on-one ability to go past people, the end bit we want to improve.
'I like him as a lad, he's got a real good energy about him, he'll know that because I think he's hungry and I want that, so it's been a breath of fresh air him coming in and he's trained well to deserve that.'