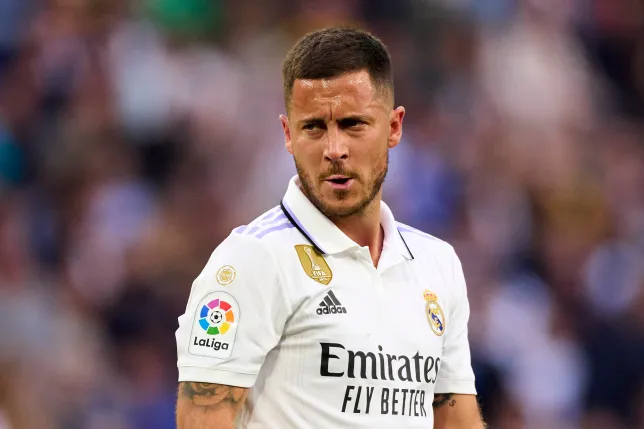 Roy Keane has blasted Eden Hazard for being 'overweight' at Real Madrid and believes the former Chelsea star should not even be considered among the top 10 Premier League players of all time.
Hazard announced his retirement from football this week after spending the summer as a free agent after his exit from Real Madrid.
The ex-Belgium international won six major trophies during his time at Stamford Bridge, including two Premier League titles, and was named PFA Players' Player of the Year in 2015.
But former Manchester United player Keane believes Hazard should not be regarded as one of the Premier League's all-time greats.
When asked if Hazard has achieved everything people thought he would, Keane said on The Overlap: 'No, no.
'Listen, brilliant player at Chelsea but when he turned up in the condition he turned up at Real Madrid… not good.
'He's had injuries, talented boy, but the fact when you talk about Real Madrid, I find it hard to… 'It's sad to see because he's a talented player but it goes to show your talent isn't enough.
'He didn't look like he had the full package in terms of his mindset when he went to Real Madrid, you can't turn up overweight for your first pre-season at the club.
'It can be difficult to go to any big club but you turn up in the best shape to give yourself the best chance, he didn't give himself a chance, even if the club was maybe, he was going to the club at a bad time, but you can still turn up in shape.
'I still wouldn't put him in, with the players you've mentioned, the brilliant players in the Premier League, with [Alan] Shearer, [Thierry] Henry, I still wouldn't put him in that bracket.
'I still think if it's less than three or four years, I think that's not long enough when you start talking about other amazing players who have done it for eight, nine, 10, 11, 12 years, for two or three years, for me, is still not long enough.'
Jamie Carragher, meanwhile, disagreed with Keane and says Hazard would be in contention to make the all-time Premier League XI.
'I think he was one of the best players I've ever seen in the Premier League. He was one of the best players in a World Cup when Belgium finished third, he won Player of the Year a couple of times,' Carragher said.
'I do think there's something about Barcelona and Real Madrid, for me, I think they are the two biggest clubs in the world in that the best players in the world always play for those teams.
'And he hasn't done that last bit what Roy's talking about where you think of what Ronaldinho did at Barcelona, what [Cristiano] Ronaldo did when he went to Real Madrid, what [Jude] Bellingham looks like he's doing when he's gone to Real Madrid. I think you elevate yourself to another level if you produce the goods at those two clubs and he [Hazard] just hasn't got there.
'I think a lot of that is what Roy said, how can you go to Real Madrid like that? I can't understand that.
'But in terms of the Premier League I think he'd be close to an all-time Premier League XI, I think he'd definitely be in the discussion, I thought he was brilliant for Chelsea.'