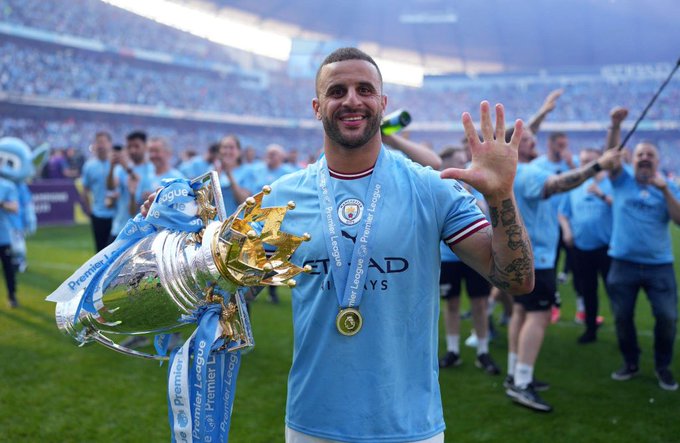 Kyle Walker aimed a foul-mouthed chant at Manchester United as his team's title celebrations grew wild across the city.
The former Tottenham defender hailed his fifth title at the Etihad Stadium since his big-money move to Manchester City in 2017.




Pep Guardioa's side were crowned champions on Sunday as they lifted the trophy after a 1-0 victory against Chelsea.
The squad celebrated at the Etihad after the match, while the party then moved into the city. Walker and some of his teammates travelled to private Manchester club MNKY HSE for an after-party. Haaland was among those to get involved in the thick of the celebrations.

The Norwegian star arrived at the venue in a set of sky blue silk pyjamas, with his initials on display on the pocket. His girlfriend Isabel Johansen followed suit with her own set. He then got an invite into the kitchens to help the chefs prepare a meal.
While Haaland was doing that, Walker was grabbing the microphone. He did a rendition of John Stones ' chant to the tune of Boney M's 1976 hit 'Daddy Cool'. He then followed that up with another line as he sang "he f****** hates United!".
Walker's chant wasn't the first brutal message sent towards United. The two teams come together next month in the FA Cup final, with the defender confirming his side are not taking their eye off the ball despite the celebrations.
Speaking after City's win over Chelsea, Walker said: "This group of lads is second to none – professionals and winners – that's how we get across the line more times than not. Rest assured, we're not finished.

"We've got the FA Cup against our bitter rivals, Manchester United, then we've got the Champions League Final come the 10th of June. Listen, we'll enjoy it today.
"We'll have a few glasses of champagne finally tonight but then we move on to the 3rd of June, which is the big one, and hopefully create a great history for this football club."



He added: "It would be fantastic but there's a lot of football to be played before we can start saying about the treble. We've got two massive finals to do.
"Just for this club and this group of lads I've been involved with for six years, to say we're up there with one of the greatest Premier League teams of all time, we have to go and conquer some of that. Obviously we've gone and won the Fourmidables and we've got our Centurions history there, but to go and get this we can make our mark on being one of the greatest teams of all time in the Premier League."