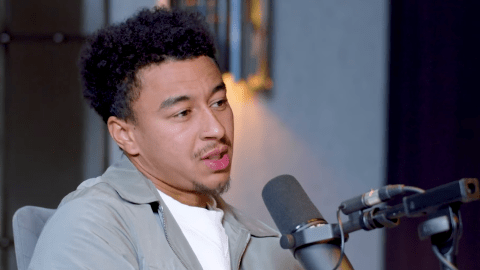 Jesse Lingard feels the pressure to perform at Manchester United has affected some big-money signings in recent years and says Alexis Sanchez was 'quality' in training despite struggling in games.
United have signed up to 12 players across the last nine years, though most have struggled to live up to their price tag, notably the likes of Di Maria, Paul Pogba and Romelu Lukaku.




Lingard left Old Trafford for Nottingham Forest in the summer and is at a loss to explain why so many players flopped, singling out Sanchez as a player who consistently impressed in training despite only netting five times in 45 games.
Asked about the club's lack of success with huge signings, Lingard told the Diary of a CEO podcast: 'I just think we didn't click. Of course, with Louis van Gaal we won the FA Cup, with Jose Mourinho the Europa League and Carabao Cup.
'It's strange, because a lot of players have come in and failed. Alexis in training [puffs out cheeks], top. Alexis Sanchez quality, in training he was quality. Then it comes to a game and it just didn't click for some reason. I don't know why. Is it pressure?
'When I was playing, especially with Rom and Alexis, we just wanted to enjoy our football. It's always going to be hard to win the Prem when City have been so dominant for many years.




'Even to win the Europa League, Carabao Cup, Community Shield, we're winning trophies, but then when Jose left the trophies stopped. And that's difficult. Another new manager. You have to prove yourself over and over again.
'It's kind of like fake promises really. You'll be told, "You're doing well, you'll play next game" and then don't end up playing.'
Lingard also felt those issues contributed to Pogba's struggles at the club, adding: 'There's no control, no structure or balance. People do what they like. It's like a free-for-all.
'Like what happened with Paul, he is one of the best midfielders in the world, I've known him since he was 16. It didn't happen at United, so something is wrong.'
Lingard also confirmed the false promises came from former boss Solskjaer, adding: 'I said to him before the season, if I don't play X amount of games before December then let me go on loan in January and he said "Yeah".
'So I didn't play, January came, West Ham came in, and still people were debating if I was fit enough and ready to go into a team like that and start straight away.




'I was with my brother watching Sky Sports News, David Moyes is on the phone and I'm like, "Yep, I'm coming, you want me there I'm there". Ed Woodward rings and says, "No, you're not going there, it's off, it's done". I was crying, me and my brother were crying.
'All I wanted to do was play football. Then it was back on. As soon as I got there I hit the ground running, it was probably one of my best seasons.'