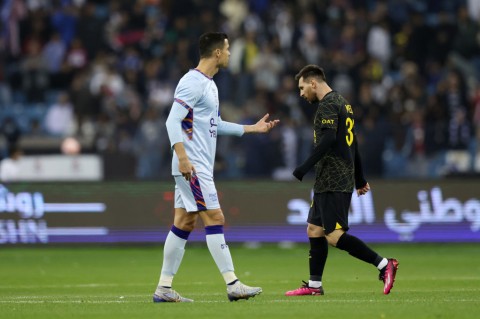 Lionel Messi is keen to stay in Europe, despite receiving a huge offer from Saudi Arabian side Al Hilal worth an eye-watering £350m-per-year.
The Argentine forward's future at Paris Saint-Germain is up in the air, with Messi's current contract set to expire at the end of the campaign.




Messi had revealed that he was happy to stay in the French capital after returning to Paris following Argentina's World Cup triumph in Qatar.
But things have soured since, with fans even jeering Messi during a home defeat to Lyon on the weekend after reports emerged that he was keen on returning to Barcelona.
While Barcelona would love to re-sign the Argentine superstar, they are walking a Financial Fair Play tightrope and Messi's return could throw the Ligue 1 side back into chaos.
That leaves him with few options as there are only a small selection of teams that could meet his wage demands.

Cristiano Ronaldo left Europe for Al Nassr in the January window, signing an astonishing £177m-a-year deal to make him the best paid player in the world.
But Al Hilal, Al Nassr's rivals, are willing to even almost double that offer for Messi by handing the Argentine a £350m-a-year deal.
That would see Messi earning close to £1m in a day in the middle-east.
But Fabrizio Romano claims the playmaker is keen on staying in Europe and will reject the offer.
This is because the former Barca star wants to maintain a high standard ahead of the Copa America in 2024 and he still has aspirations of playing in the 2026 World Cup.