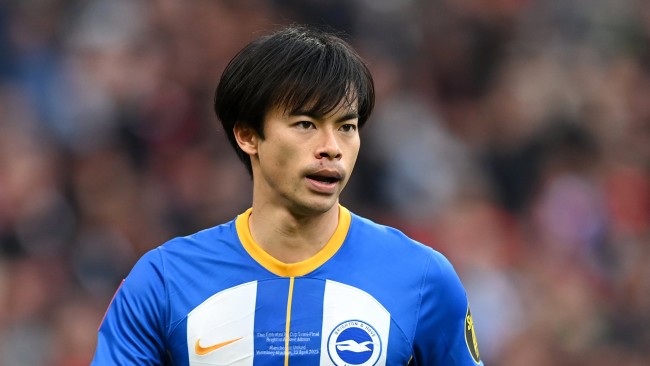 Kaoru Mitoma has described his display against Aaron Wan-Bissaka as a 'complete defeat' after Brighton's loss to Manchester United in the FA Cup semi final.
The game ended goalless after 90 minutes and extra time, while the Red Devils went on to win the penalty shootout 7-6.




Mitoma, meanwhile, struggled to make any impact as Wan-Bissaka delivered an outstanding performance on the right side of United's defence.
And the Japan international, who was playing against Man United for the first time this campaign, acknowledged that Wan-Bissaka was a 'strong opponent'.
'I regret that I didn't score a goal despite having a few chances to do so,' Mitoma said after Brighton's FA Cup exit.
'And it's difficult to score penalties, so I think I could have done something more before that.

'I hadn't played against them [Manchester United] before but all of their players are of high quality individually, so we had to be careful on the counter-attacks.
'I think the match as a whole went well but they had quality at the end.

'I also need to improve. He [Wan-Bissaka] is a strong opponent, that's what I thought while I was playing.
'There were a lot of occasions where his legs stretched at the end, or he got the ball down at the back. I think it was a complete defeat.'