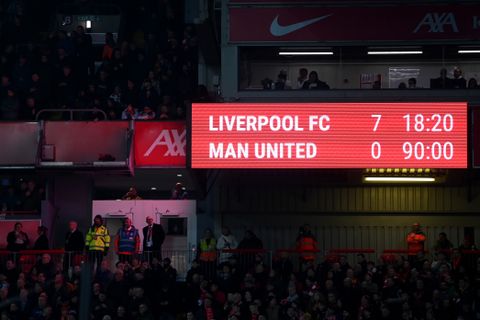 FIFA are considering a new rule to help clubs who are being humiliated by their opponents after Manchester United's 7-0 loss to Liverpool.
Fifa's referees' chief Pierluigi Collina questioned Andy Madley's decision to add only three minutes of injury time in the humiliation at Anfield. But, he admitted FIFA could bring in a "mercy rule" in those situations.




Madley added just three minutes to the end of Liverpool's big win, despite six goals being scored in the game and 10 substitutions being made.
FIFA are still pushing for lengthier stoppage time, as seen at the World Cup. But, the Premier League are yet to adopt that.
And Collina believes referees used 'common sense' to help the Red Devils and West Ham United at the weekend.
"Last weekend, ten matches were played in the Premier League and four matches exceeded 100 minutes [in total]," Collina said.




"Two of them should have been higher than this only because they were 7-0 and 4-0 [Brighton v West Ham United] and the referee probably decided not to consider the additional time be given accurately.
"Six goals were scored in the second half [at Anfield]. I can understand that giving quite a relevant amount of additional time when it is 7-0 is difficult to understand in this specific match. But if the regulations of the competition say that the entire goal difference is relevant for the ranking at the end even one goal scored or not scored can make the difference."




But, rather than 'common sense' being used in these situations, Collina says a 'mercy rule' could be implemented.
"Maybe in the future we may consider to say that additional time has not to be given at the end of the match if there is a difference bigger than X goals between the two teams, but that would be in the laws of the game," Collina added.
"Now it is common sense — but common sense is not common sense if it affects someone. In Spain v Costa Rica at the World Cup, Spain were leading 6-0 and eight minutes of additional time were given.

"Spain scored one [more] goal in additional time [to make it 7-0] and that goal could have cost Spain or Costa Rica qualification for the next round of the competition."