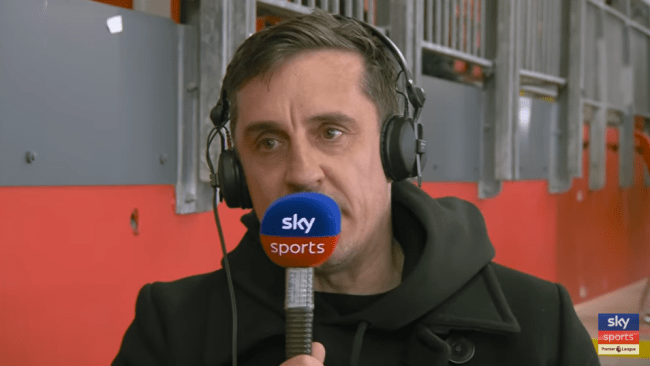 Gary Neville claims Granit Xhaka broke one of the key Anfield 'rules' before Liverpool fought back to deny Arsenal win on Sunday.
The North London side looked on course to restore their eight-point lead over Manchester City after scoring twice in the first 28 minutes through Martinelli and Gabriel Jesus.




But Liverpool appeared to be re-energised by a clash between Xhaka and Alexander-Arnold and got a goal back before half-time through Mo Salah.
Xhaka and Alexander-Arnold squared up after the Arsenal star made a late challenge and the Liverpool right-back responded with a shove.
Liverpool's fightback continued even in the second half and Roberto Firmino earned them a point when he nodded home Alexander-Arnold's cross late on.
But it could have been worse for Arsenal, who were happy to see Salah miss the target from the penalty spot and Aaron Ramsdale deny the Egyptian winger in injury-time.

'Arsenal played brilliantly in the first 40 minutes and then they just got the crowd up,' Neville said on his Sky Sports podcast.
'I'm not pointing directly at the Xhaka incident where he got involved but there is a rule when you play here and it didn't help.




'There are some rules here: get through the first 25 minutes, play the ball forward and don't let them press you early on, if the crowd are sleepy, leave it that way.
'Don't wind the crowd up or give a stupid free-kick away. Don't get involved in a fight because they want the fire here.
'One team needs fire and that's Liverpool and one team needs ice and that's Arsenal. Arsenal got involved in fire before half-time and obviously they conceded.'
Arsenal head coach Mikel Arteta felt his team had the game 'under control' until they admitted a 'sloppy' goal before half-time.
'Wow – very intense game,' Arteta said. 'The game was under control but after that we concede a really sloppy goal and the game shifted momentum.
'We started well in the first few minutes [of the second half] but then lost control. It became a very transitional game, very chaotic.
'Liverpool could score three or four. It is true we could have scored two or three so maybe at the end the score is fair.
'I haven't seen anyone do it [dominate] in this ground this season. They beat every big team here, they played Real Madrid and could have been four up after 20 minutes.
'They are going to have moments. You need to deal with them and we did. Our goalkeeper had a big part in that.
'We could taken three points. We should do that [play like the first half] for another 15 minutes and then the game would have taken a very different trajectory. We didn't. We have to take the point.'