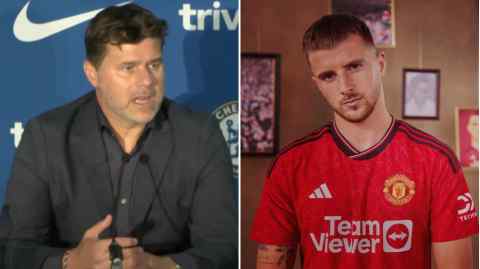 Chelsea manager Mauricio Pochettino has revealed he does not know why Mason Mount wanted to leave the club for Manchester United.
Just this week, Mount completed his £60m move from Stamford Bridge to United, ending his 18-year association with Chelsea.




While the West London side have been keen to sell players this summer, Mount was one they were determined to keep hold of given his impact over the past few years.
But the England midfielder was determined to leave and with one year left on his contract they chose to cash-in on the player.

It is not known how much of a role Pochettino had in Mount's exit, if any, and the Argentine was not keen to divulge any details in his first press conference at the club on Friday.
'When I talk about the future, it's about the players in the squad,' the former Tottenham boss said when asked if he would have liked the 24-year-old in his squad.
'He [Mount] is a Manchester United player now. I don't know what happened in the past, we need to be focused on our players and move on and try to build a nice story.
'I am proud of my past [at Spurs] but now I need to look forward, concentrate on what people expect of me and hope to build a good relationship with everyone.

'We need to be right in our decision to create a competitive team. What I have found in the club from Monday is very good people, good attitudes. So far so good.'
When asked about how much say he has had in the signings and sales, he added: 'I think it is better if I clarify the situation. When we met for first time, and agreed to start work on July.
'Laurence and Paul represent the plans for the squad. They showed me the transition plan, they start to work, the club start to work.
'It is doing a fantastic job and I am happy. From now, from the 1st of July I am more involved, I want to work with them.'