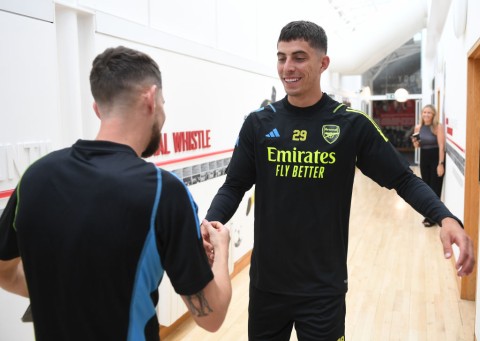 New Arsenal signing Kai Havertz can be one of the 'greatest players of his generation', according to former Chelsea player Pat Nevin.
The Germany international has swapped Stamford Bridge for the Emirates after completing a £65million move to Arsenal.
Havertz spent three years at Chelsea, scoring the winning goal in the 2021 Champions League final against Manchester City but often flattering to deceive.
The ex-Bayer Leverkusen star joins an Arsenal team that finished as runners-up in the Premier League last campaign and qualified for the Champions League for the first time since 2017.
Havertz is one of the players to leave Chelsea this summer along with N'Golo Kante, Mason Mount, Kovacic, Koulibaly and Edouard Mendy, but Nevin claims Havertz's exit 'hurts the most'.
'I think Havertz could still be one of the greatest players of his generation,' the ex-Chelsea and Scotland winger told OLBG.
'He was playing at centre-forward at Chelsea and that is not his strongest position. Playing there really took away the strongest parts of his game.
'Arsenal have sealed an absolute cracker of a deal with Havertz. I'm really confident that Mikel Arteta will be able to get the best out of him as well.
'Arsenal's team for next season is already looking extremely good. I think replacing Granit Xhaka in midfield as well is a big upgrade.
'Even though he scored the winner for Chelsea in the Club World Cup and the Champions League, we still have not seen the best of him. Arsenal have got a great player.
'While I think Chelsea may have got the better deal in terms of selling Mount, I think Arsenal have got the better deal by signing Havertz.'
Despite his mixed spell at Stamford Bridge, Havertz claimed he was leaving Chelsea 'with a heavy heart'.
'A big thank you for all your support, we achieved a dream of winning the Champions League together,' the 24-year-old added.
After signing a long-term deal at Arsenal, the German heaped praise on Mikel Arteta's team and said he hoped to help the club win trophies.
'It's super exciting for me to be joining this amazing club and to be part of the Arsenal family,' Havertz said. 'This club has such a big history, and I hope we can achieve lots of things.
'The mentality in the Arsenal squad is very high and you can feel that. That was one of the reasons why it has been so hard to play against Arsenal recently.
'The aim is to win trophies and I'm going to give everything to do that for the supporters and everyone at the club. I'm now looking forward to meeting all the players and the staff when we come back for pre-season.'