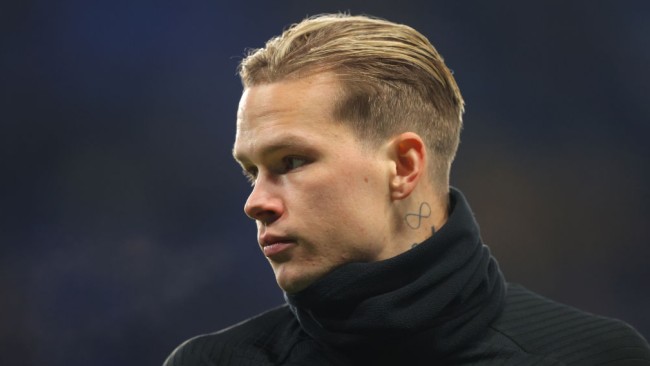 Graham Potter says Mykhailo Mudryk is only going through a settling in stage at Chelsea, and regardless of his transfer fee, it will take as long as it takes.
The Ukrainian star signed from Shakhtar Donetsk for £88m in the January transfer window as Chelsea beat Arsenal to his signature after a lengthy pursuit from the Gunners.




There was hype surrounding the winger but he is yet to deliver on it, starting just two Premier League games and three more league appearances from the bench, without a goal or assist yet.
Potter intends to get Mudryk into the side, potentially as soon as this weekend against Leicester, and says it is a bedding in period in a new country, new league and having not played for quite some time when he was signed.




'Every player wants to play and it's important that players play to improve, I think that's a fact,' Potter told a press conference.
'But at the same time, it's not a straight road, it's not just a play and everything happens in a linear way. Sometimes you have to take a step away.
'Sometimes you just need a bit of training time, you need a breather. Lots of factors. Hopefully, he can benefit from the time he's had. It's not easy for him to just arrive in the middle of pre-season for him and to come into a new country, new club, new league, and just hit his absolute maximum level.
'It's regardless of the fee, I know people will look at the fee but it doesn't change the situation he is in. So we're positive about him. We're positive about the future for him. But we need just to help them settle and help him understand what he needs to do to help us.'




The Blues have been struggling with injuries this campaign and their problems continue as Raheem Sterling has picked up a hamstring problem ahead of the Leicester game on Saturday.
That could offer an opportunity for Mudryk to play, which Potter admits is a possibility.
'He certainly comes into the equation,' said the manager. 'He will be in the squad tomorrow and there is a chance he can play.'