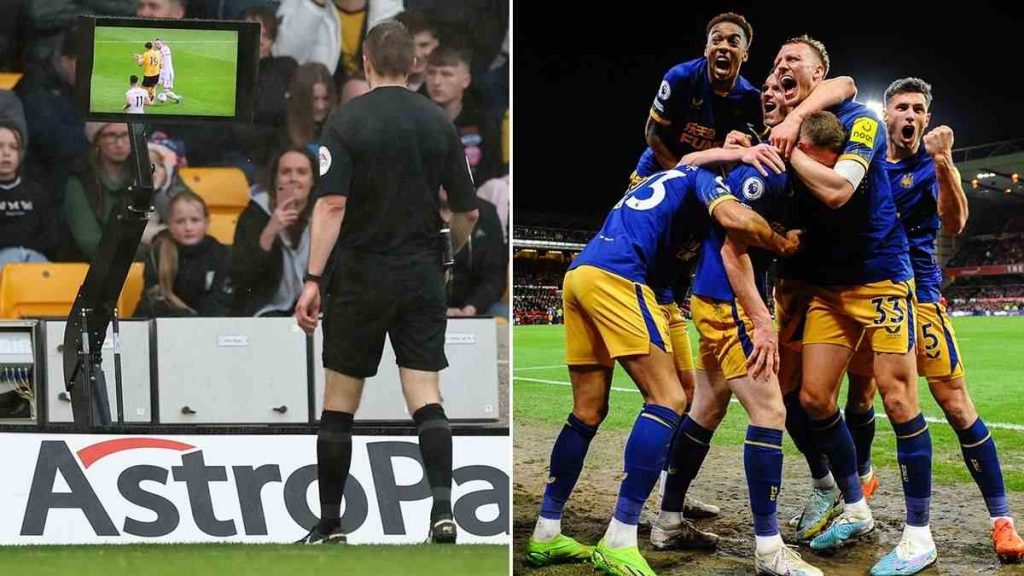 Premier League bosses are urging players to not get carried away with goal celebrations due to the risk of VAR making it pointless just moments later.
This season already, 37 goals have been ruled out after utilising the technology, this is a rate of more than one every gameweek.




Top-flight officials have come under huge scrutiny in recent weeks, with the use of VAR a major bone of contention across the division.
PGMOL chief Howard Webb called an emergency meeting with referees last month after a worrying number of mistakes marred Premier League game. In the same weekend, he apologised to Arsenal and Brighton after officials at Stockley Park made incorrect calls on key goals.
And the uncertainty around the use of the technology is leading to managers telling players to reduce celebrations, the Daily Mail reports.
Wolves manager Julen Lopetegui, a critic of Premier League officiating said last month that his players had to "start knowing we don't have to celebrate goals."




Newcastle were the beneficiaries of a borderline call against Wolves this month, but were left frustrated themselves against Nottingham Forest when Anderson's goal was ruled out.
Anderson's goal, which would have been his first senior goal for the club, sparked wild scenes of celebration, only for it to be ruled out after replays.




"I'm not sure what happened there, I've got no idea, so I need to sit down and see what happened and what the thought process was," Howe said after the 2-1 victory at the City Ground.
Lopetegui has received multiple apologies for mistakes in recent weeks, starting with a disallowed goal vs Liverpool. And Wolves were left bemoaning decisions again last week, after they lost a six pointer with Leeds United.
Wolves were beaten 4-2 at Molineux, but felt they were on the wrong end of some close calls, including not getting a penalty and when a fourth goal was allowed. Matheus Nunes was sent off, but his three-match has now been rescinded by the Football Association.
"I'm not waiting for apologies, I want fairness," Lopetegui fumed after the final whistle. "The refereeing decisions since my appointment, it's incredible. I could make a book. Maybe when you have the same mistakes a lot of times against you, it's not balanced."
Reflecting on Nunes' red card, he added: "It's not a red card. He was complaining about the linesman. It was a very clear foul for the fourth goal for Leeds. I've seen the same images that [the referee] has seen, but he said no. You can see the images. It's a pity."