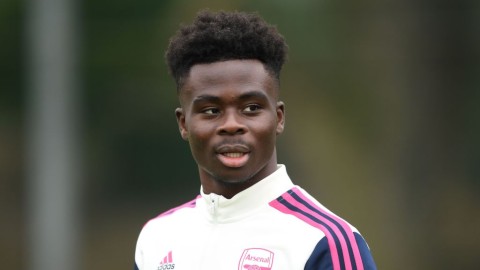 Bukayo Saka has revealed that Arsenal have had meetings with the refereeing body PGMOL to speak on his rough treatment, though he is just moving on to play his football.
The England winger has enjoyed a superb campaign this season, netting 10 times and providing nine assists in just 27 games to help the Gunners move to the top of the Premier League table.




But, he has often ended games looking beat-up and bruised, with many opposition sides taking an aggressive approach to try and stop him.
Saka has been fouled 45 times in the Premier League – which ranks him joint 16th for fouls per game – but those free-kicks have drawn only four yellow cards.
That means opposition players average one yellow card for every 11.25 fouls they commit on Saka, whereas fouls committed on Grealish – the second-most fouled player in the league behind Zaha – result in a yellow card every 4.9 times.
While Saka is not bothered about how he is treated on the pitch, he says Arsenal have brought it up on his behalf with PGMOL.




'I can't come out here and start complaining that I'm getting fouled. It doesn't make sense, I'm not going to get anywhere with it,' Saka told The Evening Standard.
'Arsenal have had the meetings they need to have with the referees and stuff like that. I feel like we just need to take it from there and see where that gets us.




'The way I play, I'm always going to attract contact. 'I watched Alexis Sanchez a lot growing up. He was a special player, I loved many things about him. That's one of the qualities he had — he always got up, fought to the end.
'You could say I took that from him, but at the same time I have my own goals and ambitions. That's also [part of] my drive.'
Mikel Arteta feels Saka could reduce how much he is fouled by tweaking his style, the winger added: 'He's talking about the type of balls I receive. As a winger, if you receive the ball on the touchline with your back to the defender, even if I'm the defender, I'd do the same: come in straight and fast, close you down.

'So, of course, there's going to be a lot of pressure and a lot of contact. I think he's talking about those type of balls, the type of balls where I don't have much space to manoeuvre and the defender can close me down quickly and be really aggressive.'