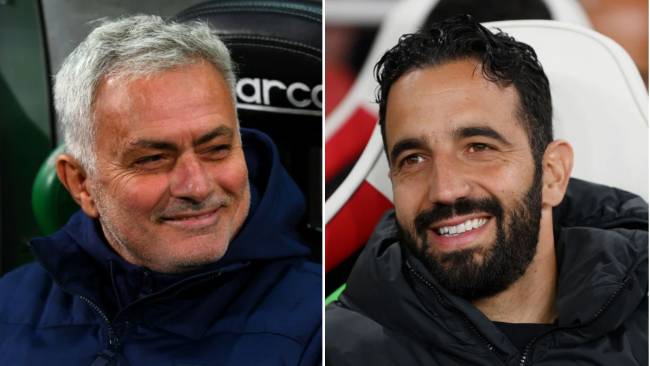 Sporting manager Ruben Amorim has dismissed comparisons between himself and Jose Mourinho but revealed the Roma manager texted him after Thursday's Europa League victory over Arsenal.
After the draw in Lisbon in the first leg of their last-16 clash, the Portuguese team forced extra-time at the Emirates after a long-range chip from Pedro Goncalves cancelled out Xhaka's opener.




Arsenal looked the team likely to find a breakthrough in extra-time but goalkeeper Antonio Adan made a number of fine saves before denying Martinelli in the shootout as Sporting progressed to the quarter-finals.
Clubs like Juventus, Manchester United and Mourinho's Roma could await Sporting in the next stage, and Amorim revealed he has received a cheeky text from his compatriot.
When asked about comparisons with Mourinho, and whether he could be more in-demand after beating Arsenal, Amorim replied: 'The new Mourinho? There will never be a new Mourinho.
'Mourinho is one of a kind. He's already texted me, "The old and the new [Mourinho] are still in, I'll see you in the next stage!"




'But there won't be another Mourinho.
'And I won't forget what we've gone through this year, and that can happen again. We spoke four weeks ago about me potentially losing my job, I'm not really worried about that.
'And all the words I had before the game, even going through, the objective is that I'm very happy here, the objective is to win one more league for Sporting – which is very important.




'But I don't know what is going to happen tomorrow, but that's not going to worry me because everything in my life has happened very quick without really looking for much.
'The new Mourinho I won't be, but I'm happy to carry on at Sporting's project.'
Reflecting on his side's display against the Premier League leaders, Amorim added: 'I saw a lot of maturity from my players. We went behind in both games, we managed to make our way back both times.
'Obviously we needed to have the technical, physical and mental capacity to keep up with them – a team that plays a very different rhythm compared to our league.
'We needed to have a good day and the players were really good. More than the result, it's the way we actually played that's the most important thing to carry on.'