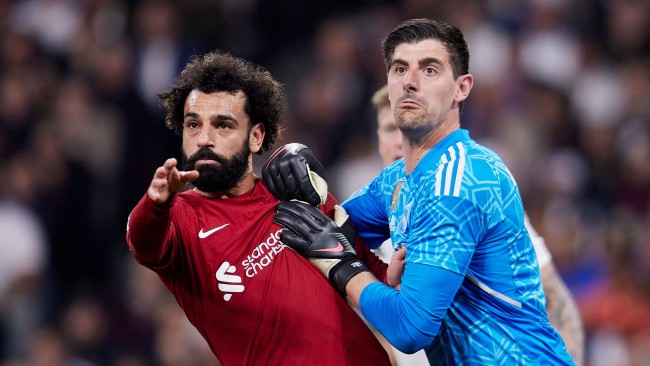 Thibaut Courtois claims he wants Real Madrid to avoid Manchester City and Chelsea in the UEFA Champions League quarter final.
The La Liga club sealed their place in Friday's quarter-final draw with a 1-0 victory over Liverpool at the Santiago Bernabeu on Wednesday.




Man City are through after beating RB Leipzig 7-0 at the Etihad this week, while Chelsea are the only other Premier League side left in the competition after they knocked out Dortmund.
Bayern Munich look impressive after eliminating Paris Saint-Germain in the last 16, while Napoli had another brilliant display as they ran out 3-0 winners over Eintracht Frankfurt on Wednesday.




Benfica, Inter and AC Milan are the other three teams Madrid could face in the next stage of the competition.
When asked who he would like Real Madrid to play in the Champions League quarter final, Courtois said: 'I would like to change a bit.
'Last year we already faced City and Chelsea, let's see if we play other teams this year. Haaland is very good, he is one of the stars of football.
'Last year we made it clear what character we have in the team, with comebacks, we earn respect, we show that Real Madrid is always there.'




'To be honest, the ideal would be for us to meet Milan in the final in Istanbul, but there is a long way to go,' Ancelotti told Sky Sport Italia.
'Napoli are doing very well, they are dominating Serie A and can therefore concentrate entirely on the Champions League.
'All the potential opponents in the quarter final are dangerous, it will be a real battle.'