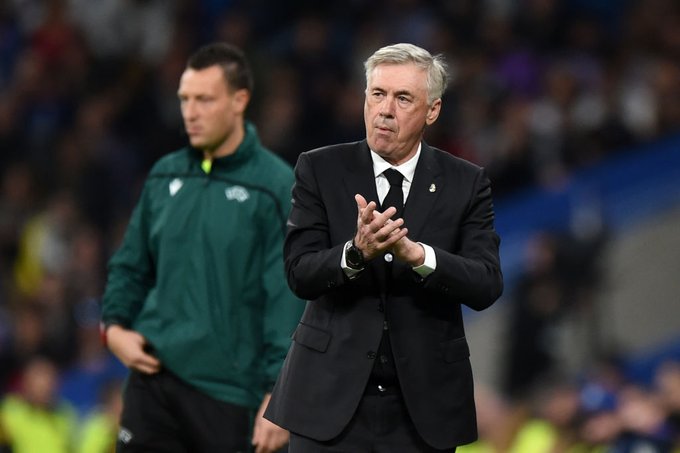 Real Madrid boss Carlo Ancelotti ironically sent a Chelsea-based warning to his team ahead of the two teams being drawn together in the Champions League.
The Spanish club booked their place in the last-eight of the European competition this week with an aggregate win over Liverpool.




Madrid eased to a 5-2 win during the first-leg at Anfield, with Benzema then scoring the decisive goal at the Santiago Bernabeu.
Ahead of the second-leg in Madrid, Ancelotti had warned his side that the tie was not over. He pointed to their experience against Chelsea last campaign as reason to be cautious – the Blues losing 3-1 before then roaring back at Stamford Bridge to lead the tie.
Real overcame that scare by scoring two late goals and progressed. They eventually went on to win the competition.
"We have had the experience of last year against Chelsea," Ancelotti said before their second leg against Liverpool.




"We had a three-goal advantage, that is why we are and were favourites, but the other fact is that we have to play another 90 minutes.
"To do that, we have to play with the same attitude as the first leg. We have the advantage, but we can't think of managing the game and the result that we had, we have to play 90 minutes at the top."




Ancelotti will be hoping to avoid a similar panic this time with his side set to play Chelsea in the Champions League for the third season in succession.
The Blues sealed their place in the last-eight after staging a second-leg comeback against Borussia Dortmund.
Graham Potter gave his thoughts on a clash with Real Madrid after the draw. He said: "The feeling is excitement. I've said we will try to win the Champions League and that's the same for the other seven clubs in the draw I'm sure."

He added: "We will focus on Real Madrid when we get there but at the moment our thoughts are on tomorrow and Everton. I'd rather focus on Everton because the other stuff is a long way away."