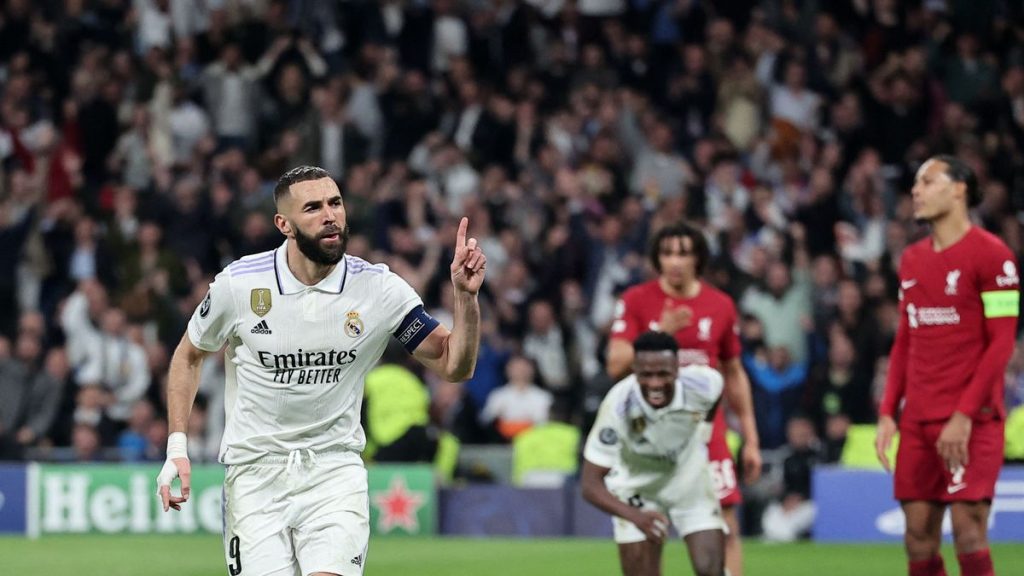 Karim Benzema has revealed Real Madrid exploited the weakness in Liverpool's defence as Alexander-Arnold was at fault for the only goal of the clash on Wednesday.
Liverpool needed a miracle to reach the quarter-finals of the Champions League after losing 5-2 to Madrid in the first leg and Benzema's goal in the 78th minute put the game beyond doubt.




The Los Blancos captain, who was left unmarked when he slotted home the only goal of the game after Vinicius Junior managed to get the ball in his direction, revealed that he informed his Madrid teammates to exploit the space between Liverpool's centre-backs.
Speaking after scoring his third goal against Liverpool across the two legs, the 35-year-old revealed Liverpool's weakness in their defence.
"I told Camavinga that the two Liverpool centre-backs open up a lot," Benzema said.
"I told him small details, as I know that the two Liverpool centre-backs play wide open, there is an opportunity in the centre and we did that in the goal. He is a young player but he has a lot of talent and we are happy with him"




While Benzema was pinpointing how Los Blancos exploited Liverpool's defenders, Ferdinand was quick to explain how Alexander-Arnold could have snuffed out the danger had he been more aware of the gap Madrid exploited.
The Reds full-back had been alongside Vinicius Junior before he allowed the Brazilian star to ghost into the box.




And Ferdinand told BT Sport: "I just want to take it back, what I want you to see is as the ball goes into the centre forward, Trent Alexander-Arnold – here he is.
"You've got to be thinking defensively, you've got to be thinking 'my two centre halves are in trouble, there's gonna be a chance and there could be a ball coming in here at some point', or at least 'let me get myself back in to cover my defenders'. That's got to be your first and only thought in this phase of play.
"The ball goes through, then look at the separation as the ball comes down to Vinicius there. As he touches that ball, he's gone from being side-by-side to being five yards behind the player he was marking – that's a world class attacking player who you can't take your eyes off.

After being dumped out of the Champions League, Liverpool now face an uphill battle to be in the competition next season as they currently sit sixth in the Premier League.